Well last week was a real kick in the groin. Or should I say poke in the eye.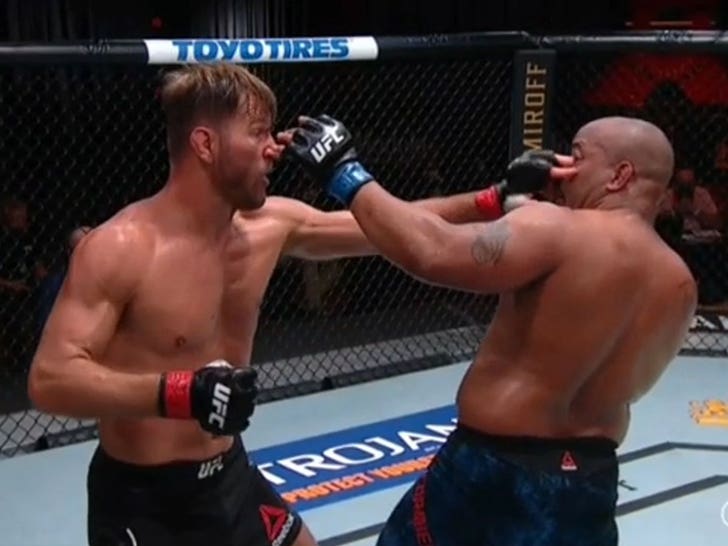 My boy Daniel Cormier left the fight game once-and-for-all with a fat L to Stipe Miocic, labeling Miocic as the greatest heavyweight to do it. And "Sugar" Sean O'Malley also lost after suffering a strange leg injury which resulted in him getting carted off.
If you checked the article last week, I called Cormier choking out Stipe in round 3. That didn't happen…
I'm happy Cormier at least made it all five rounds, but he got a nasty finger in the eye and ultimately let the judges decide his fate.
That emotionally-fueled prediction brings Cheap Seat Predictions down a loss to 71/107, but unlike Cormier, we are not giving up the fight. Peep our predictions for the main and co-main event for #UFCVegas7.
💺💺💺💺
Frankie Edgar vs Pedro Munhoz (Bantamweight):
Frankie "The Answer" Edgar is 17-8-1 in his UFC career and 23-8-1 overall in his soon-to-be UFC Hall of Fame career. He hasn't fought since December 2019 where he lost to Korean Zombie. Before that, he lost to Max Holloway in July 2019.
You have to look all the way back to April 2018 to find his last win and it was against an aging Cub Swanson. Edgar, the Rocky Balboa of the UFC, has a hard match-up this time around for his first bantamweight bout.
Pedro "The Young Punisher" Munhoz is 9-3 with one no contest in the UFC since joining in 2014 and 18-4 with one no contest overall. He's coming off a loss to bantamweight contender, Aljamain Sterling, in June 2019. Before that, he was on a three-fight win streak, most notably a round one TKO against Cody Garbrandt (who is moving down to fight Deiveson Figueiredo in the Flyweight Championship).
Bovada has Munhoz as a large favorite at -265 and Edgar as the underdog at +205.
Munhoz has constantly been at the top of his division and contending for a belt. He just hasn't quite got there. Now he has the chance to check off a dub against a UFC legend and move up from his current five spot in the bantamweight division.
I feel like at this point, Frankie is just fighting for the love of the sport, but even a win here doesn't get him a shot at the bantamweight title. And he'll still have to fight another big name in the featherweight division led by Alexander Volkanovski who has beat Holloway twice now.
Munhoz is going to piece up Edgar for five rounds.
Munhoz def. Edgar via unanimous decision
Lately I have just been going with the favorites, not really on purpose, but I don't see Frankie pulling it out. I would have gone with the underdog OSP but then he tested positive for COVID-19, so that fight is now suspended.
Enjoy the fights and playoff basketball tonight. Dame drops 40 tonight, but Lakers win.
---