Garrett Pelto
Before we get into this article we want to offer our condolences to Walt Harris and his family after the tragic news surrounding his daughter, Aniah Blanchard.
🙏🙏🙏🙏
Time:
Prelims: 7 PM EST
Main card: 9 PM EST
Date: Saturday, December
Location: Capital One Arena in Washington, D.C.
If you don't know; this is only the second time in UFC history that an event is taking place in Washington, D.C. AND it's basically in my backyard… so you better believe your boy is going!
Cheap Seat Predictions currently stands at 50/76 correct winners (66%) and 15/76 (20%).
💺💺💺💺
Alistar Overeem vs Jairzinho Rozenstruik (Heavyweight):
Alistar "The Demolition Man" Overeem is 10-6 in the UFC and 45-17 overall. Currently on a two-fight, first round KO win streak over Alexey Oleynik and Sergei Pavlovich. His last three losses have come from KOs/TKOs from Curtis Blaydes, Francis Ngannou, and Stipe Miocic.
Jairzinho "Bigi Boy" Rozenstruik is 3-0 in the UFC and 9- 0 in his professional career. Rozenstruik replaced Walt Harris after Harris's daughter went missing and was found dead.
"Bigi Boy" has TKO/KO his last three opponents in the first or second round. And all have been this year.
Overeem is the slim underdog with EVEN odds and Rozenstruik is the favorite at -130.
Rozenstruik has been dominate with his kickboxing ability, but we all know Overeem has the strength to KO anyone that steps into the octagon. It should be interesting to see if this fight even makes it outside the first round with these two HEAVY heavyweights.
Despite the switch up of his opponent in the last month, I think Overeem is able to silence the upcoming Rozenstruik and take control early.
Overeem def. Rozenstruik via TKO in round one
Marina Rodriguez vs Cynthia Calvillo (Women Strawweight):
Marina Rodriguez is 2-0 (with one draw) in the UFC after earning a contract in season one of Dana White's Contender Series and 12-0 overall. She won all her UFC fights via three-round unanimous decision, but has 5 KO wins on her career. Her latest victory coming against the tough Tecia Torres.
Cynthia Calvillo (missed weight) is 5-1 in the UFC and 8-1 overall. Similar to Rodriguez, she wins the majority of her fights by decision. Unlike Rodriguez, she wins via submission. Her only loss came to Carla Esparza via three-round unanimous decision.
As it stands, Rodriguez is the favorite at -140 and Calvillo is the underdog at +110.
Rodriguez has the length and strength, to stay out of the wrestling approach from Calvillo. With that I think she stays hot.
Rodriguez def. Calvillo via unanimous decision
Stefan Struve vs Ben Rothwell (Heavyweight):
Stefan "Skyscraper" Struve is 13-9 in the UFC and 28-11 overall. Struve has had a rough go lately. He's 1-3 in his last four fights. Won via arm-triangle choke in February this year against Marcos Rogerio de Lima, but lost three before that against:
Marcin Tybura via unanimous decision in 2018
Andrei Arlovski via unanimous decision in 2018
Alexander Volkov via round three TKO in 2017
Ben Rothwell is 6-6 in the UFC since joining in 2009 and 36-12 overall. Rothewell is having a rough go as well. Losing his last three against:
Andrei Arlovski via unanimous decision in July 2019
Blagoy Ivanov via unanimous decision in March 2019
Junior dos Santos via five-round unanimous decision in 2016
This is truly the battle of the giants. Struve at 7'0″ and Rothwell at 6'4″. The shorter (in comparison) is the favorite at -145 and Struve is the underdog at +115.
In the post-fight interview of Struve's last fight, he sounded like he was going to retire. He said "I think everybody is aware that my heart is not 100 percent". Makes sense when you see him fight sometimes because it looks very lack luster.
I am going with Rothwell who looks like he is ready for a bar fight anytime. He turns around his three-fight skid.
Rothwell via TKO in round three
Aspen Ladd vs Yana Hunitskaya (Women Bantamweight):
Aspen Ladd is 3-1 in the UFC and 8-1 overall. She is trying to bounce back from her first loss to Germaine de Randamie via round one TKO in July where she was the favorite. Leading up to that fight, Ladd struggled making weight.
Yana "Foxy" Kunitskaya is 2-1 in the UFC and 12-4 overall in her professional career. Despite being the former Invicta Bantamweight Champion she lost her first fight against Cris Cyborg in round one via TKO.
Ladd is the favorite at -185 and "Foxy" is the underdog at +150.
Part of me wants to go with "Foxy". She mentioned that after breaking her nose last fight, she had to focus on wrestling and become more well-rounded because she wasn't allowed to strike during training.
But Ladd is the better fighter who was surprised in her last fight. Ladd is coming off suspension and should be more focused than ever. AND she made weight.
Ladd def. Foxy via unanimous decision.
Cody Stamann vs Yadong Song (Bantamweight):
Cody "Mr. Wonderful" Stamann 4-1 in the UFC and 18-2 overall. All his fights have gone to decision except for his kneebar submission loss to Aljamain Sterling.
Yadong "Kung Fu Monkey" Song is 4-0 in the UFC and 15-4 overall. Finishing three of his last four opponents.
Song is the favorite at -205 and Stamann is the underdog at +165.
I am going with the huge favorite here, who apparently counter punches the crap out of his opponents, but this should be an exciting fight from both competitors.
Song def. Stamann via TKO in round 1
Rob Font vs Ricky Simon (Bantamweight):
Rob Font is 6-3 in the UFC and 16-4 overall. He's 3-2 in his last five fights. Coming off a 2018 unanimous decision victory against Sergio Pettis and a 2018 unanimous decision loss to Raphael Assuncao.
Ricky Simon is 3-1 in the UFC and 15-2 overall. He was undefeated until he lost to Urijah Faber via round one TKO in July this year.
Rob Font is the favorite at -145 and Ricky Simon is the underdog at +115.
This is arguably the best fight on the card and these two were supposed to be on the prelims until Carlos Condit and Mickey Gall's fight was scrapped.
Both these fighters are amazing strikers and have their own different styles. Simon will get in tight and try to catch you inside while Font can use leg kicks to keep some distance.
Because Simon likes to try and get in close, I see Font just tagging Simon all fight and avoiding any real shots from Simon.
Font def. Simon via unanimous decision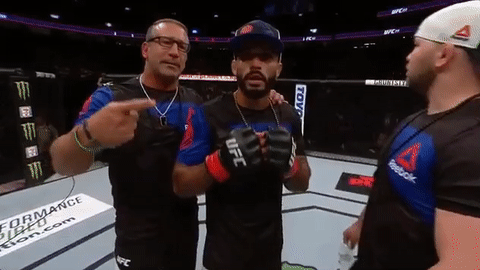 Happy gambling and enjoy the show. I know I will 😈.
💺💺💺💺
---