By Garrett Pelto
Date: Saturday, October 5
Time:
Prelims: 8 PM EST
Main card: 10 PM EST
Location: Melborne, Australia
Hello old friends.
It has been a while since we gave our takes from the Cheap Seats, but nonetheless, we are back and ready to talk some fights. Let's keep it fun, shall we? …
To recap our numbers for those who aren't familiar, CheapSeatFans have correctly predicted  49-out-of-75 winners (65%) and  15-out-of-75 rounds and finishes (20%).
With out further ado..
💺💺💺💺
Israel Adesanya vs Robert Whittaker (Middleweight Championship):
Israel "The Last Stylebender" Adesanya is an undefeated 6-0 in the UFC and 17-0 as a professional fighter. The only better record in the UFC is Khabib at 28-0. Adesanya is Nigerian-born, but was raised and fights out of New Zealand, so this is basically a home fight for him.
He's coming off a win against Kelvin Gastelum where he won the Interim Middleweight Title. Before that he beat his idol and UFC legend, Anderson Silva. Now he squares off against Whittaker, the current Middleweight Champion.
Robert "The Reaper" Whittaker is 11-2 in the UFC and 20-4 in his professional career. Whittaker is a New Zealand-born Australian.
He was supposed to defend his title against Gastelum in February, but suffered a hernia the night before/morning of the fight and was forced to withdraw. Then entered Israel and Silva to salvage the main event.
Currently the odds are a "pick em" at -115 for each fighter. Aka dead even.
Also aka… even tougher pick for your dear writer.
Israel is undefeated but that doesn't necessarily sell me on the fact that he can whoop up on Whittaker. Whittaker is a tough son of a bitch who has only lost to Stephen Thompson via round one TKO in 2014 (see below) and Court McGee via three-round split-decision in 2013.
It does give me hope for Israel that Thompson won because it is the closest style to Israel that Whittaker has faced in the UFC.
I'd like to see Whittaker get inside Israel and take him to the ground. Even Jon Jones has questioned that aspect of Stylebender's fight.
I still don't think we will see that dimension of Israel's game this fight.
Adesanya def. Whittaker via five round decision
Dan Hooker vs Al Iaquinta (Lightweight):
Dan "The Hangman" Hooker is 8-4 in the UFC and 19-8 overall. He has 12 first round finishes in the UFC and all his fights have ended in stoppage. Winning five-out-of-six fights coming into this fight, he's looking to make a statement by taking out "Raging" Al.
"Raging" Al Iaquinta is 9-4 in the UFC and 14-5-1 in his professional career. Al brings the power as well, with five first round finishes and seven career KO wins (one submission victory).
Al has won 9-out-of-12 fights coming into this and won one of his last three. Beating Kevin Lee in a five round decision and losing to both Cowboy Cerrone and Khabib by five round unanimous decision.
Currently Hooker is the favorite at -150 and Iaquinta is +120.
Hooker is actually a training partner with Israel. After his last victory he asked to be on this card so he could train with Israel in New Zealand. Make sense cause the guy could chop a tree down with his kicks.
Al's best bet is to KO Dan… Although Dan has only been KOed once in the UFC and it was from a punch to the body from Edson Barboza.
Expect this one to be an exciting fight with huge bombs from each. Al has never been KOed in his UFC career, but I have a feeling that Hooker is going to catch him a few times.
With that said… Still giving it to the crazy New York real estate agent, Al Iaquinta if he can avoid the massive leg kicks.
Iaquinta def. Hooker via TKO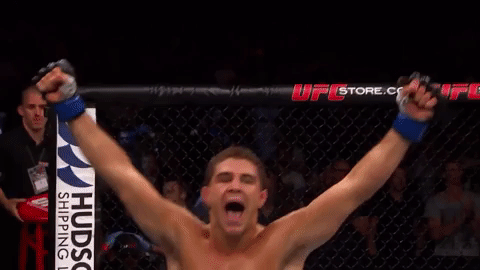 Happy to be back! Hope you all enjoy the fights this weekend and enjoy this month of all major sports including college football. What a time to be alive.
💺💺💺💺
---