Date: Saturday, May 30
Time:
Prelims: 6 PM EST
Main Card: 9 PM EST
Location: UFC Apex in Las Vegas, Nevada
Better late than never for some UFC predictions! Hope everyone is staying safe and making a slow transition back into real life although we know there's a lot of time until we are back there.
With all the craziness 2020 has brought us, I hope we can all enjoy a night of regulated violence with UFC on ESPN.
Cheap Seat Predictions for UFC currently stand at 64/95.
Tyron Woodley vs Gilbert Burns (Welterweight):
Tyron "The Chosen One" Woodley is 10-2-1 since joining the UFC in 2013 and 19-4-1 overall. Woodley successfully defended the Welterweight belt four times, but relinquished it to Kamaru Usman after getting dogged for five rounds in March 2019.
Since losing his belt, Woodley has made raps songs, had his share of Twitter beefs, and battled out of a state of depression. Now he looks to return to the amateur version of Tyron Woodley and, as he said at the UFC Fight Night press conference, give "maximum performance every single time" because "if you capable of it and you don't do it then what are you there for".
Gilbert "Durinho" Burns is 11-3 since joining the UFC in 2014 and 18-3 for his entire professional career. Burns is currently on a five-fight win streak. He's done that with three unanimous decisions, one first-round TKO against Demian Maia, and a second-round rear-naked choke submission against Mike Davis.
Burns has maintained a great record similar to Woodley's, Burns just hasn't received the same opportunity to fight for the belt. This is Burns's first main event fight in UFC and is now competing at a higher weight class.
Woodley was just winning his first as Burns was taking his first and second UFC losses. His third and most recent loss was a first round KO punch from Dan Hooker in July 2018.
Tyron Woodley is the favorite at -185 while Burns is +150.
Despite being the favorite, I would be lying if I say I wasn't worried for Woodley. His last fight with Usman shows that he may have lost a step and that Usman is the real frickin' deal.
They are both great at Jiu Jitsu and both have the KO power. But Tyron is going to look bigger compared to Burns and I can only imagine his takedown defense will reflect that. I don't see Woodley getting KO but I could see him take some blows and lose if Burns can work him on the ground.
Let's hope for fireworks either way during this five rounder on a fine Saturday evening.
Woodley def. Burns via unanimous decision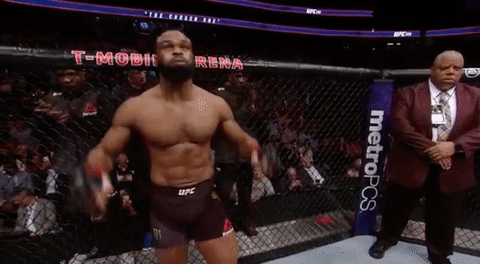 Also, rooting for my boy Billy Quarantillo who I saw dominate in his UFC debut in Washington D.C. in December 2019. Billy is just outside the co-main and is going to display how versatile he is.
Shout out to his family who showed up and cheered him on. Really cool to see.
---