Date: Saturday, July 11
Time: 
Prelims: 8 PM EST
Main card: 10 PM EST
Location: UFC Fight Island, Yas Island, Abu Dhabi
Fight Island, baby! It is finally here!
While most of us peasants can't travel to Abu Dhabi and pay for seats to UFC 251. We can mentally escape COVID once again thanks to UFC's attempt at normalcy.
Entering this championship-filled card, Cheap Seat Predictions stands at 66/99 correct winners… Niiice
💺💺💺💺
Kamaru Usman (C) vs Jorge Masvidal (Welterweight Championship):
Kamaru "The Nigerian Nightmare" Usman is 11-0 in the UFC and 16-1 overall. He won his belt after defeating Tyron Woodley in March 2019. Usman sucessfully defended it against Colby Covington at UFC 235 in December 2019.
Jorge "Gamebred" Masvidal is 12-6 in the UFC and 35-13 overall. Masvidal is on a freaking run right now. 3-0 since his loss to Stephen Thompson in 2017.
This man has truly leveled up and taken UFC by storm after KO Darren Till…
Then flying knee against Ben Askren…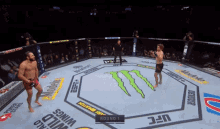 And finally, winning the BMF belt against Nate Diaz. Now he steps in for COVID positive Gilbert Burns. Not to mention on the cover of UFC 4.
Usman is -250 favorite and Masvidal is +195 underdog.
Masvidal finally worked out a contract with the UFC and is saving the day. With that being said, he has a huge hill to climb with Usman.
Usman is a big body who can swing too. It's not going to be a quick 10 second KO. But Masivdal, who fought in Kimbo Slice's backyard brawls, is ready to grind for a belt.
I don't see it happening for Masvidal. Usman is a true champion and despite having his opponent switched last minute, is fully capable of defending the belt. He's going to ride Masvidal into the cage and grind him into nothing.
Still hope Masvidal can get a rematch fight with Nate or McGregor despite taking an L this Saturday.
Usman def. Masvidal via unanimous decision
Alexander Volkanovski (C) vs Max Holloway 2 (Featherweight Championship):
Alexander "The Great" Volkanovski is 8-0 in the UFC and 21-1 overall. This is a rematch against Holloway, who he beat via unanimous decision in December 2019.
Now the Australian looks to successfully defend the title for the first time.
Max "Blessed" Holloway is 17-5 in the UFC and 21-5 overall. Considered the greatest Featherweight of all-time, Holloway defended the Featherweight Championship belt three times. He's only ever lost to Dustin Poirier (twice), Dennis Bermudez, Conor McGregor, and lastly, Volkanvoski.
Volkanovski is the favorite at -225 and Holloway is the favorite at +175.
In their last fight, Volkanovski made a living on leg kicks and tally points. Holloway tried to say they didn't hurt, but they definitely slowed Holloway and left him catching punches too.
I love Max, and think he has the length and some of the best footwork in the UFC, but I don't see him pulling off the upset and regaining the championship title. Volkanovski is too tough and he matches Holloway's constant pressure for the entire fight.
Volkanovski def. Holloway via unanimous decision (again)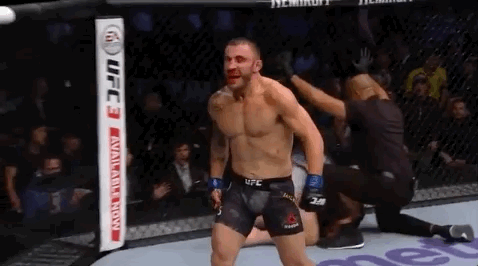 See the rest of my picks below:
Yan def. Aldo via split-decision
Namajunas def. Andrade via rear-naked choke
Ribas def. VanZant via unanimous decision
Enjoy the fights!
💺💺💺💺