By Garrett Pelto
Date: October 6, 2018
Time: Prelims at 8:00 p.m. EST
Main Card at 10:00 p.m. EST
"Send Me Location" *Khabib voice*:  Las Vegas, Nevada
It has been TWO years since Conor McGregor last fought in the octagon.
It has been six months since Khabib Nurmagomedov headlined a UFC event and McGregor threw a dolly through Khabib's bus window for getting into an altercation with McGregor's teammate, Artem Lobov.
But we are finally here! SEND ME LOCATION!
Khabib Nurmagomedov (C) vs Conor McGregor (155 lbs):
Khabib is 10-0 in UFC events, 26-0 as a professional. McGregor is 9-1 in the UFC, 21-3 as a professional. Two guys who have earned the respect of everyone in the fighting world because they don't lose often. Someone's gotta do it on Saturday though…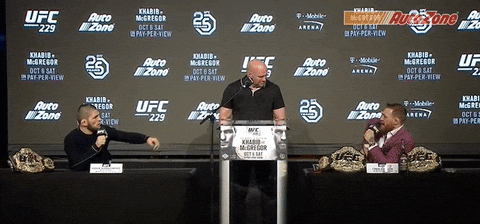 For Khabib, we know the game plan: Wrassle, wrassle, wrassle.
He wants to get on fighters' backs and destroy their will with each punch to the side of the head. And he's willing to do it the whole fight if they can muster the strength. In his last two fights, he went the distance on Al Iaquinta's back in a five round fight and before that he ducked kicks to dominate Edson Barboza in three.
And before that, he kimura-ed Michael Johnson, TKOed Darrell Horcher and beat Rafael dos Anjos via three round decision.
We all know the story of McGregor. But for those who have ignored the fighting world for the last five years…
McGregor was a champion in both the Featherweight and Lightweight division. Beating names like Max Holloway, Dustin Poirier, Jose Aldo and Nate Diaz.
Lately, he has been too busy playing boxer and butt buddy with Floyd Mayweather to participate in UFC. But before he left the octagon he beat Diaz in a rematch and then absolutely embarrassed Eddie Alvarez in less than two rounds.
McGregor is undoubtedly one of the best fighters to ever step in the octagon. He's proven that he can take on just about anyone at anytime (he's even thinking about fighting Anderson Silva… Only a crazy person would call out Silva). The guy strikes quicker and more unpredictably than almost anyone in the UFC.
That extreme, rabid look in his eyes intimidates fighters before the first round even starts. When he's walking down the tunnel it's hard to imagine anyone capable of winning against him.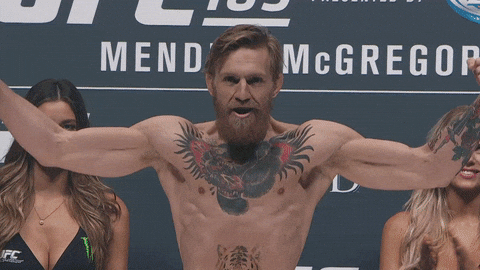 Okay. But hear me out.
Khabib is the perfect fighter to defeat Conor McGregor. McGregor has defeated a lot of fighters AND in knockout fashion, I get it. But Khabib's style is the kind to expose McGregor. It is the same style that Chad Mendes found success using against McGregor.. for a round or two. And it is the same style that Nate Diaz used to end McGregor's seven-fight win streak at UFC 196.
McGregor wins against fighters that he doesn't respect. Fighters he backs against the cage with his jabs. Khabib will have Conor's respect and I don't believe McGregor can truly defend someone who can take a punch and get inside his body to advance to the ground.
According to Reed Kuhn of ESPN.com, Khabib attempts 1.5 takedowns per minute he's on his feet. And while McGregor is obviously training for Khabib's takedowns and has improved his cardio because of boxing, I still feel he won't be able to hold him off forever.
I believe McGregor only wins if he drops Khabib early. Otherwise, I am not convinced McGregor's camp mimicked the Russian-bear-wrestling attack from "The Eagle" OR the adrenaline dump McGregor will get after the first two rounds.
Khabib def. McGregor via submission in the fourth round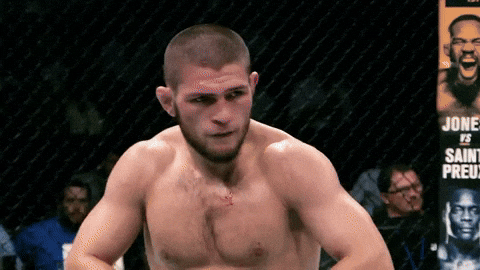 Tony Ferguson vs Anthony Pettis (155 lbs):
Tony Ferguson is 13-1 in UFC events, losing only to Michael Johnson, 23-6 overall. Anthony Pettis is 8-6 in UFC events and 21-7 overall.
Ferguson, holding the interim belt at one time, was one of the names swirling as an opponent for McGregor's return to the octagon after beating Alvarez. He was also supposed to fight Khabib, but that match up has been cursed by pre-fight injury for about three years.
Naturally, Ferguson is a little bitter because his belt was taken during his recovery from knee surgery and wants a chance at the winner of the main card this weekend. Until then, he'll have to settle for "Showtime" Pettis.
Ferguson lost to Michael Johnson in the fourth fight of his UFC career via unanimous decision, and has gone on to win nine-straight against opponents like Edson Barboza, Rafael dos Anjos and, most recently and notably, Kevin Lee. The guy feels like a champion, still.
His opponent, Pettis, comes from a family of fighters and is arguably the most athletic fighter in the game (peep below):
Even after beating big names like Donald Cerrone, Benson Henderson and, most recently, Michael Chiesa, I worry about Pettis's consistency. He's 5-3 since losing his Lightweight title in 2015 and Ferguson is super determined to put himself in position to fight for the belt again.
Ferguson def. Pettis via unanimous decision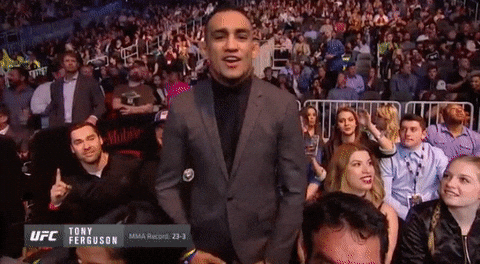 Ovince Saint Preux vs Dominick Reyes (205 lbs):
OSP is 11-6 in UFC events, 23-11 in all MMA events. Dominick Reyes is 3-0 in the UFC, 9-0 in all MMA events.
I have to say OSP is hard to have much confidence in when you have actually see him fight a decent amount. Sometimes he just comes out looking like the fighter who can take all the punches, but doesn't really do anything offensively.
When you first look at St. Preux though, you're convinced he was made in an evil science lab for either mixed martial arts or tearing down buildings in New York City.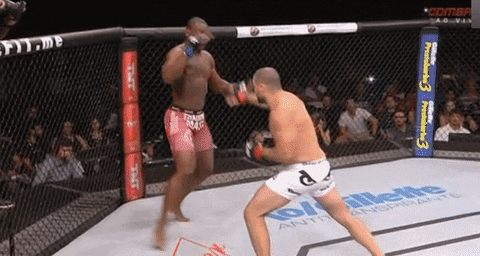 While I am usually first to doubt OSP, I predict OSP dogggggs this newcomer. Sorry Reyes.
OSP def. Reyes via TKO first round
Derrick Lewis vs Alexander Volkov (250-260 lbs):
Derrick "The Black Beast" Lewis is 11-3 in UFC events, 20-5 in MMA overall. Alexander "Drago" Volkov is 4-0 in UFC and 30-6 overall.
Lewis, similar to OSP, can come out lacking luster. But unlike OSP, I always have faith in Derrick Lewis. Lewis can go the whole fight getting whaled on and flip the match around in the last seconds, then give an exit interview about taking a shit cause the other fighter wasted his time kicking him in the stomach.
Volkov is a huge mother fucker (6'7″, 240 lbs) and has beat some big names like Fabricio Werdum, Roy Nelson and Timothy Johnson. He's not super impressive with striking or ground game, so its hard to get too excited for him besides the fact that you're witnessing a giant play a competitive sport.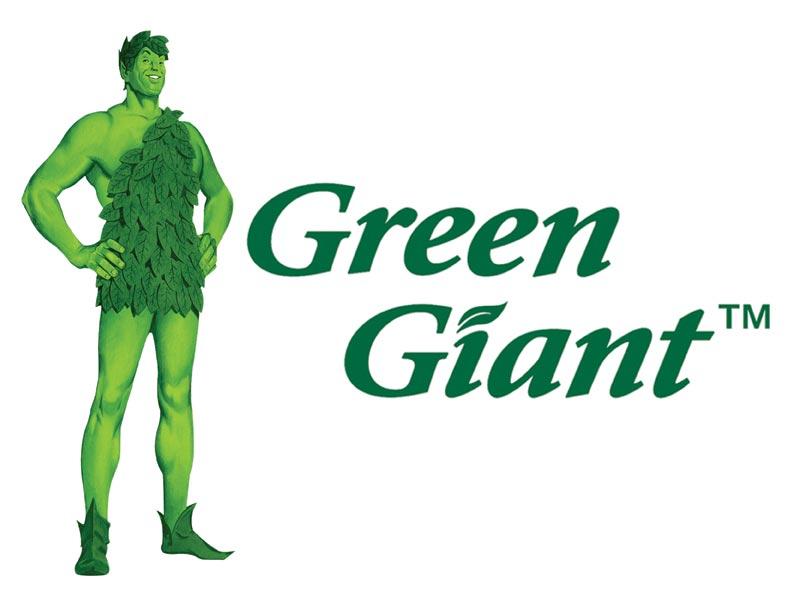 I predict "The Black Beast" will manage to bully, get on top and smother this jolly giant. The question is: Can Volkov make it the whole fight?
Lewis def. Volkov via unanimous decision
Michelle Waterson vs Felice Herrig (115 lbs):
Michelle "The Karate Hottie" Waterson is 3-2 in UFC, losing only to Tecia Torres and (C) Rose Namajunas, and 15-6 in MMA overall. Felice Herrig is 5-2 in UFC, losing only to Paige VanZant and Karolina Kowalkiewicz. and 14-7 in MMA overall.
Waterson is the better fighter in this match up. I think she has improved all areas of her game in the past two years. She has mopped the floor with Paige VanZant (check out one of many hip tosses from that fight below) while Herrig lost to PVZ in decision. Herrig has submissions under her belt, but for the most part, she usually takes the fight the entire distance.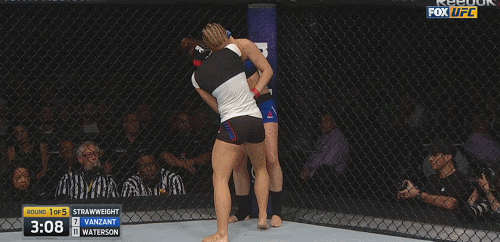 Waterson has been known to choke out and submit opponents in a few different ways. Aka don't expect her to take it the distance. Expect her to be relentless and trying to end the fight any way she can.
Waterson def. Herrig via unanimous decision
---