By Garrett Pelto
Date: December 15
Time: 
Main Card: 8 p.m. EST
Prelims: 5 p.m. EST
Location: Milwaukee, Wisconsin
It's been a whole ass week since the exciting, four-round duel between Max Holloway and Brian Ortega. WHICH CheapSeatFans correctly predicted three of the four winners (slightly off on the exact outcomes but…).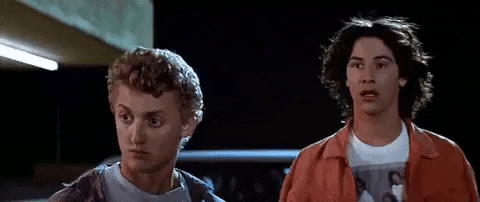 Unfortunately, CheapSeatFans incorrectly predicted the main event which resulted in Holloway retaining his Featherweight title.
After the fight, Conor McGregor quizzed Twitter about the division:
So expect Holloway's next match to be against Tony Ferguson with the slimmer possibilities of McGregor or Frankie Edgar sneaking in.
Deciding between Ferguson and Holloway in a fight is like debating Drake vs Kendrick.
As for the co-main event of UFC 231, Valentina Schevchenko went the distance with Joanna but came out the unanimous victor. Most people think she is going to fight Jessica Eye. I think she might be Eye-ing that rematch with Nunes after Schevchenko defends her belt once more.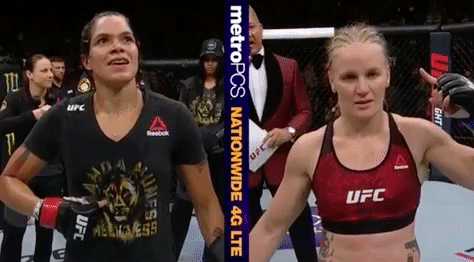 For Joanna, I'm sure she wants a rematch, but don't expect that to happen so quickly. She'll probably be in the Flyweight division for the next fights to come.
Let's get into predictions for this week's main card matchups!

Kevin Lee vs Al Iaquinta (Lightweights): Five Rounds
Kevin"The Motown Phenom" Lee has been in the UFC since 2014 and is 10-3 in those fights. Coincidentally enough, his first fight (and loss) was against Al Iaquinta. Iaquinta is 8-3 in the UFC. His three losses coming from current champion, Khabib Nurmogomedov, Mitch Clarke and Michael Chiesa.
For Lee, four of his last seven fights resulted in stoppage on the ground. Five of his last seven he's finished the fighter, outright. His last loss came from Tony Ferguson via triangle-choke in the third round. Lee won the first round but it obviously wasn't enough.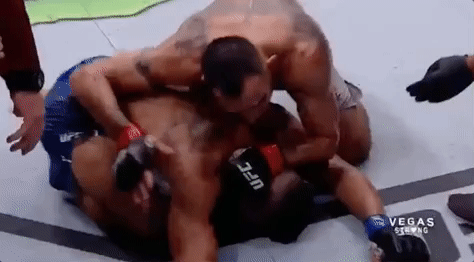 Iaquinta, too, has finishes of his own: five in his UFC career. All three losses in Iaquinta's career came from skilled ground fighters. He actually showed some life stepping into the fight against Khabib because he throws heavy hands. But Khabib embarrassed him overall. He just didn't look great on the ground even though he was collegiate wrestler.
I think Kevin Lee has evolved since his first fight against Al, but I don't think this will make it any easier for Lee to finish him. I think he will show a lot of skill and that he is worthy of a fight with the UFC's top Lightweights. A fight against Justin Gaethje or Dustin Poirier would be a whole conversation for another day.
Lee def. Iaquinta via unanimous decision
Edson Barboza vs Dan Hooker (Lightweights):
Edson Barboza is 13-6 in the UFC and is 4-3 in his last seven fights. His three losses coming from a brabo/arche choke by Tony Ferguson in 2015, unanimous decision loss to Khabib and a TKO (doctor stoppage) against Kevin Lee.
Dan "The Hangman" Hooker is 7-3 in the UFC. He started 3-3 and has since won four-straight. Three by KO and one by guillotine choke. Quite the finisher, but not against the best talent.
Barboza seems to always lose to the top fighters, as previously stated. I think he is one of the most untrustworthy fights out there to put your money on, but he does have the potential to knock someone out in an instance. Or take some ribs and a leg with kicks. Outside of that his fight strategies never seem to surprise anyone.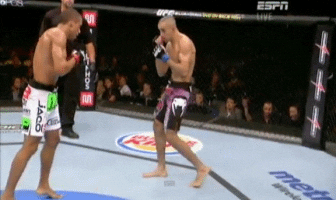 Meanwhile, this Hooker guy is gaining some hype. I believe he can expose Barboza in this fight and gain some popularity.
Hooker def. Barboza via TKO in round 2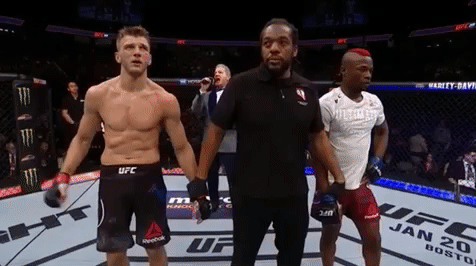 Rob Font vs Sergio Pettis (Bantamweights):
Rob Font is 5-3 in UFC fights and 3-3 in his last six fights. One of his more notable defeaters was John"Hands of Stone" Lineker and he surprisingly went the distance.
On the other side of the octagon, the younger brother of former Lightweight champion Anthony Pettis, Serigo Pettis. Pettis is 5-2 in his last seven fights. No big names standout on his previous match ups except for Henry Cejudo, the current Flyweight champion, who beat Pettis in unanimous decision.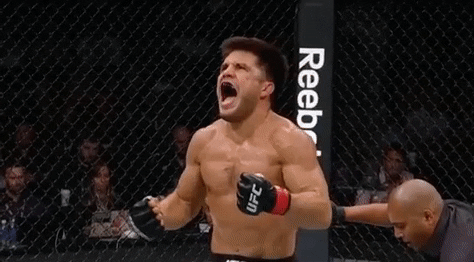 For this fight, I don't know if Pettis's weight will be enough to take out a guy like Rob Font. But like his brother, I don't think you can count out Pettis's athleticism.
Font def. Pettis via unanimous decision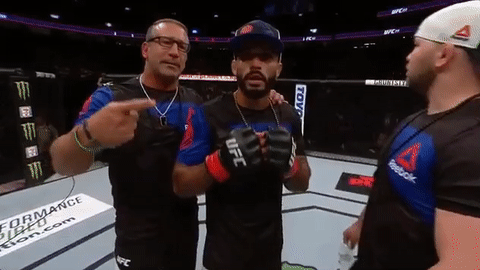 Jim Miller vs Charles Oliveira (Lightweights):
Jim Miller is 18-11 and one no contest in the UFC. That's 30 fights for the 30-year-old in the UFC since 2008. Fight number 31 is a UFC record. Which means he's fought just about everyone:
Notable wins:
Notable losses:
For Charles Oliveira, he is 12-8 and one no contest in the UFC. Most notable win is probably against Jeremy Stephens in 2014.
His most notable losses, however, spread from KO from Cub Swanson in 2012, decision loss to Frankie Edgar in 2013, an esophagus injury(!) during his fight against Max Holloway in 2015 and guillotine choked by Anthony Pettis in 2016.
Don't expect Miller to get KO or submitted. I can't expect this veteran to win either, unfortunately.
Oliveira def. Miller via unanimous decision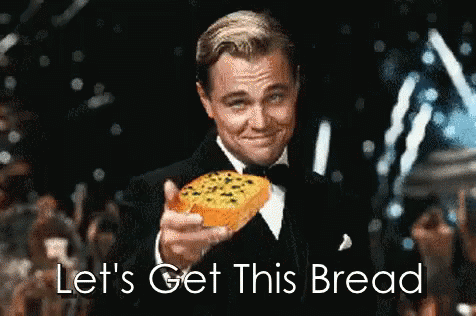 ---
---