By Garrett Pelto
To fans whose teams have missed the playoffs: Vikings, Steelers, Titans, and every other team below .500 … there is always next year.
But now it is time for the 2018 NFL Playoffs. Starting with this weekend's wild card. Peep the playoff picture below:
For those that check up on this site, Twitter and/or Facebook from time-to-time, you're probably used to predominately UFC predictions and commentary (which we like to think are pretty damn good)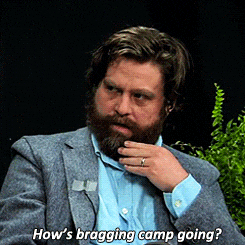 For your reading and betting pleasures, we will do the same for the NFL Wild Card Weekend. Without further ado, let's take a look at the AFC side of things. (You can peep our Cheap Seat Predictions for the NFC Conference HERE)
Houston Texans (#3) vs. Indianapolis Colts (#6):
Saturday, January 5 at 4:35 p.m. EST
This AFC South match up is between two teams that obviously know each other very well. This year they split their regular season meetings. The Texans bounced back after going 0-3 by beating the Colts in OT at the Lucas Oil Stadium, 37-34, in which . Colts got their revenge in Week 14, however, beating the Texans 21-24 at NRG Stadium. So both games being decided by a mere three points.
Taking a deeper look at the Texans' schedule this year, their five loses include:
Week 1 against the Patriots, 20-27
Week 2 against the Titans, 17-20 (tight first game. Texans beat them 34-17 in their second meeting)
Week 3 against the Giants, 22-27 (very surprising looking back on it cause the Giants sucked this year)
Week 14 against the Colts, 21-24
Week 16 against the defending champion Eagles, 30-32
Their loses have been by seven points or fewer, which says something about the fight in this team.
They have a quarterback in Deshaun Watson who is one of the models for the new style of QB to come. He has the mobility of someone like Michael Vick (I'm not saying he's as good of a runner, but similar) with a more accurate arm and a stud receiver in Deandre Hopkins. Last year, Watson tore his ACL and while set his team up for a playoff run, was not able to participate in the postseason.
Unfortunately the injuries continued this season for the Texans, losing Will Fuller to a torn ACL and Demaryius Thomas to a torn Achilles. Keke Coutee is expected to return from his hamstring injury, luckily for the Texans. For almost the entire season Hopkins has picked up the slack, like everyone on social media this week likes to remind us, by having 115 receptions this season and ZERO drops.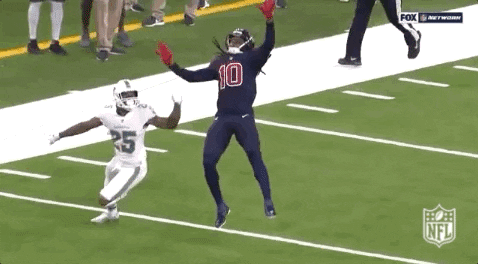 Their defense has to be mentioned. With ballers like J.J. Watt, Jadeveon Clowney and Tyrann Mathieu, they have to be accounted for on every play. Their defense is third against the run, so expect Andrew Luck to be slinging the rock like most games for the Colts. The question will be if the offensive line for the Colts can hold off these monsters up front… which they have greatly improved at from last year.
Now for the Colts side of things. Indianapolis is 10-6, starting 1-5 but ending the regular season with a four-win streak against the Texans, Cowboys, Giants and Titans. Their six losses include:
Week 1 against the Bengals, 23-34
Week 3 against the defending champion, Eagles, 16-20
As previously mentioned, Week 4 against the Texans, 34-37
Week 5 against the Patriots, 24-38
Week 6 against the Jets, 34-42
Week 10 against the Jaguars, 0-6 (disgusting)
Their losses are all 11 points or fewer. Similar to the Texans, don't expect them to disappear or give up within their four quarters.
Colts have 12 sacks against the Texans this year and have a stud, possible Defensive Rookie of the Year in Darius Leonard. He most recently won AFC Defensive Player of the Month for December. So look for him to make plays or open up lanes for his teammates to make a difference on the defensive side of things.
Offensively, the Colts have really improved over the season, finishing the regular season at fifth in scoring. Luck came into this year with shoulder issues that have plagued him for the past three years which almost ended his career completely. But now he is back and itching to win a playoff game; Throwing for 4,593 yards and 39 TDs this season.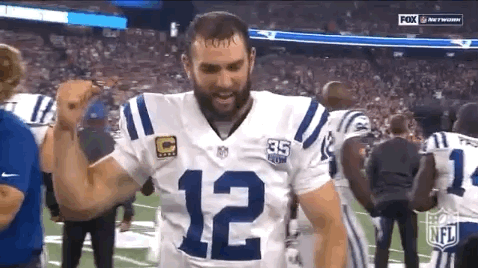 I believe Luck comes with his full nerd potential and cringing sportsmanship, which will be his downfall. Although he'll still throw for like 300 yards. "ESPN's Football Power Index" has the Texans as a 61.3% favorite to win, which probably has to do with home-field advantage. For betting purposes, home-field advantage is like a three-point spot (which could be huge for these division rivals).
Deshaun Watson and the Texans' DL will be the key to the Texans' success in this one. Watson must protect the ball and avoid sacks in his first playoff game, while the Texans' DL needs to find a way to disrupt Luck in the pocket. Expect a shootout in Houston.
Texans 33, Colts 28.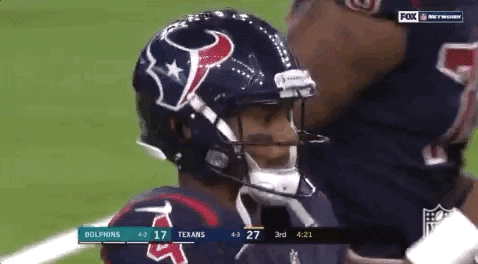 Baltimore Ravens (#4) vs. Los Angeles Chargers (#5):
Sunday, January 6 at 1:05 p.m. EST
All these wild card games are really exciting matchups. This one is especially intriguing with rookie and former Heisman winner, Lamar Jackson, going against Philip Rivers, the least accomplished QB (as far as playoff and Super Bowl wins) of the 2004 Draft Class.
AB, Le'Veon and Tomlin fuck everything up
in Pittsburgh.
While most think this Baltimore team is the dangerous wild card team that no one should want to see in the playoffs, I see right through the deep purple. Ravens started off the year 4-2, then lost three-straight heading into the bye week, losing to the Saints, Panthers and Steelers.
After their Week 10 bye, they turned their season around and went 6-1 (only losing to the Chiefs 24-27 in Week 14) to win their division and replace the Steelers in the AFC Wild Card. This is much to the help of Lamar Jackson who stepped in for former Super Bowl champ and non-elite QB, Joe Flacco.
While Lamar has sparked this team's success way more than Flacco ever could. I have major concerns with Lamar and this predominately running offense. Especially since playoff games usually have better defense than the regular season, I think this running offense could get figured out. God forbid he has to conduct a two-minute drill and rely on his passing game.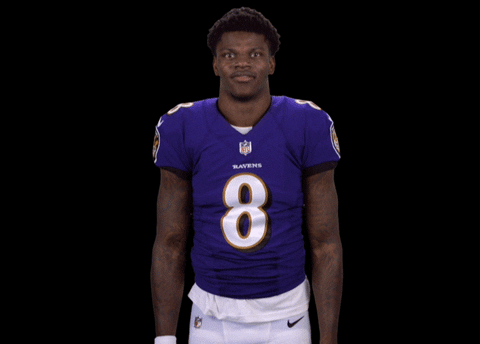 Now for the Chargers. They started the year 5-2 heading into their Week 8 bye. Only losing to the Chiefs, 28-38 and the Rams, 23-35. Fairly impressive, although this first half of their schedule was pretty easy. Beating teams like Bills, Raiders and Browns.
Something that could work in their favor is that this is the second time the Chargers are facing the elusive Lamar Jackson in three weeks. I think this is a huge advantage, really, for Los Angeles who now gets to make up for their mistakes in the previous meeting.
While they are traveling across the country for this meeting, the Chargers have the pieces to defy the home-field advantage odds with play makers on both sides of the ball. I mentioned in the Colts section that they have a possible Defensive ROTY, well so do the Chargers in Derwin James. James has 3 INTs, 3.5 sacks, 75 solo tackles and 4 TFLs on the year.
Offensively, they have been banged up in the past few weeks. Mainly Melvin Gordon battling an ankle injury, but is expected to be present for the wild card game and Keenan Allen who has fought through a hip injury, but is supposed to be healthy this weekend. In addition, they may regain their TE Hunter Henry who has been absent since tearing his ACL in preseason OTAs. Although I doubt he would play a bunch of snaps, he is a great weapon for Rivers to have.
I think Rivers spreads the ball around with his weird throwing motion and Gordon exposes this number one ranked Ravens defense. Lamar will show signs of his inexperience and I predict he will turn the ball over with at least one interception.
Chargers 24, Ravens 17
---