By Garrett and Christopher Pelto
Alright… First things first. Last week we had some real CHEAP, Cheap Seat Predictions. We went 1-for-4. Ouch.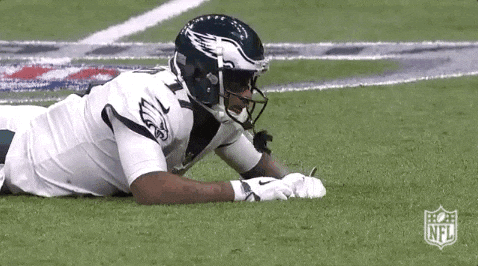 Give credit to our writer, Chris Pelto, for predicting the only dub: Saints over the Eagles. (Sorry Alshon)
This week, Cheap Seats will SWEEP…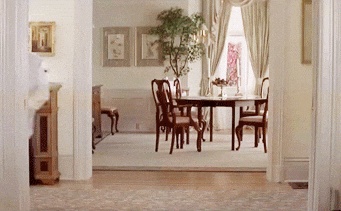 Los Angeles Rams at New Orleans Saints
Sunday, January 20 at 3:05 p.m. EST
Well, well, well. After going 1-for-2 the first week of the playoffs, I followed up with the same 1-for-2 record last week. Sorry guys. I promise to give you true guidance this week.
Ten years ago, the New Orleans Saints hosted the NFC Championship and went on to win the Super Bowl. I watched as Brett Favre threw a ball across the middle and across his body to lose what would ultimately be his best shot at returning to the Super Bowl with the Vikings.
I also watched Juju Smith-Schuster cost the Steelers a ball game against the Saints. 😡
You can say I'm a bit salty. I believe their luck has run out.
With this match-up pitting the LA Rams versus the New Orleans Saints, the odds are favoring the Saints at -165 and placing the Rams as underdogs at +145. The spread is listed at 3.5 points and the over/under is also placed at 56.5.
First things first. Unpopular play; bet the under.
There's no reason these two teams don't go insane on Sunday, but I can also see both teams locking each other up. Every analyst is picking the Saints. They seem to be riding Drew Brees and the home field advantage to the Super Bowl. A part of me thinks the Rams are going to be able to apply pressure defensively and seemingly stop the Saints similar to how the Cowboys did early in Week 13 by a score of 13-10.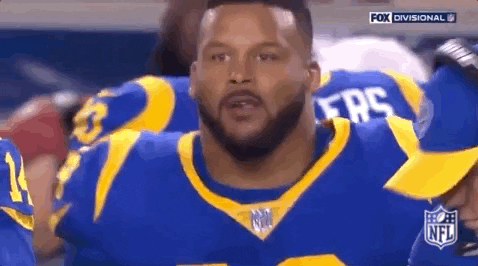 The Saints will aim to start fast, but if they aren't able to, the Rams will try to control the ball and seemingly the game. Brees was exposed earlier this year on pressure from inside the A gaps and up the middle, flushing him out.
The Saints are built for the dome, but the more I start to study the Rams, so are they. The Saints have improved tremendously defensively and games like this are EXACTLY why the Rams purchased the defense they did. Time to slay the dragon, or in this case, Drew Brees. (We are very excited about the return of Game of Thrones in April)
When the Rams set out to build a Phillips-styled unit with Wade Phillips manning the helm, they included using cornerbacks that excel in man-to-man coverage to allow for more diverse blitzes.
I'm a defensive guy and it seems that this is the goal of most defensive coordinators in this day and age. In building and transitioning, the Rams were willing trade two of their previous first-round talents from last year's defense in defensive end Robert Quinn (to the Dolphins) and inside linebacker Alec Ogletree (Giants), who were thought to be a better fit a 4-3 scheme.
Offensively, Los Angeles proved me wrong last week and continued to have success running the ball. Who would of thought that this gym class hero, C.J. Anderson, would come rumblin' and stumblin' into our lives in time to save fantasy teams across the world as well as the Rams at their most crucial moment.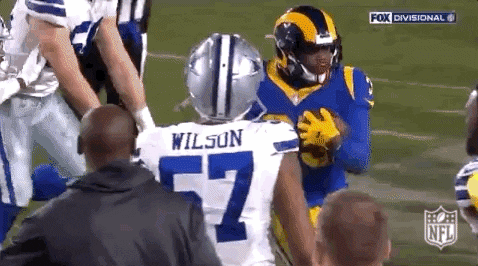 With a banged up Todd Gurley to end the season, the Rams now have another weapon to utilize in the concoction created by the mad scientist, Sean McVay. I understand the experience that Sean Payton brings to the equation, but it's a new age and everyone is trying to catch up. I'll rock with the younger and, let's be honest, a lot cooler coach in McVay.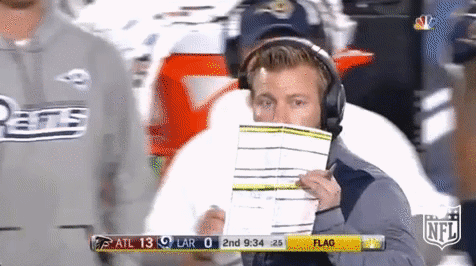 The Saints, offensively, are a juggernaut. But there seems to be a weakness, or more of a crutch, in Michael Thomas. Outside of Michael Thomas, I don't believe there is anyone else to step up. I mentioned Ted Ginn last week as a late addition in the season in hopes of taking the tops off defenses. Much of Thomas's catches are contested due to running shorter routes. Then again, even on those short routes he was able to scorch the Eagles for a 12 catch, 171 yards and a touchdown day.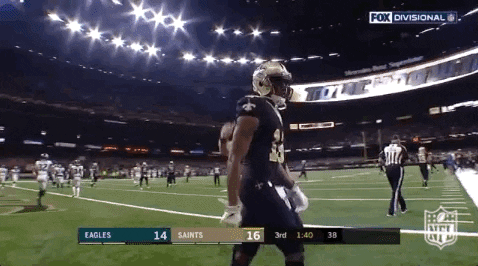 The return of Aqib Talib is something that is very much worth noting. The team had struggle with him gone due to the inability of Marcus Peters to play man coverage as he likes to constantly peep and play the quarterback. Look for Talib to mark Thomas which is going to be one of the biggest match-ups within this game.
Let's get paid. And get that gumbo.
Underdogs roll.
Rams 24, Saints 17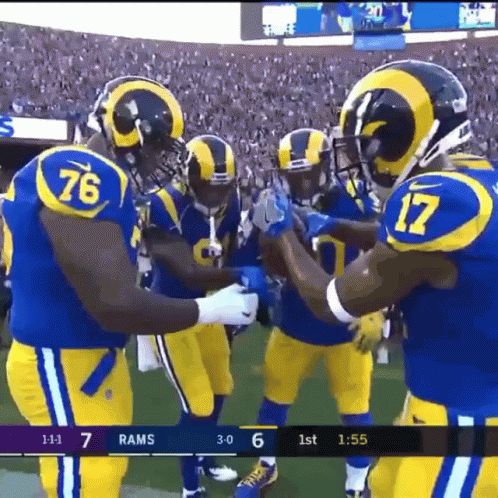 New England Patriots at Kansas City Chiefs
Sunday, January 20 at 6:40 p.m. EST
Last week I went a little upset heavy with the Colts and Chargers. I know, silly me.
I don't know what was worse; picking those underdogs to upset Party Pat and Goat Brady or having to watch those abysmal AFC Divisional games.
Party Pat showed why he is the MVP of the NFL against the Colts. Although that MVP Award is not officially his. Yet.
Mahomes went 27/41 with 278 yards and had one rushing TDs. Surprisingly he didn't throw a TD. But if you watched the game, you know he didn't need to. He got help from Tyreek Hill's 36-yard TD run and Damien William's 129 yards on 25 carries.
That snowy field didn't slow them down one bit and they made that Colts defense look nonexistent.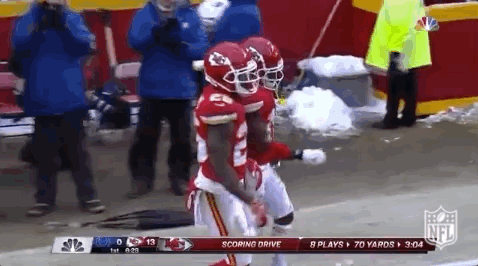 Where the Colts defense didn't show up, the Chiefs D (which I shat on last week) actually looked like a defense! They let Andrew Luck and his offense feel the pressure with three sacks, five TFLs, 11 pass defenses and six QB hits. In addition, held them to only 236 total yards and 13 points…
As for the New England side of things, Tom Brady would like to remind you that he's not washed up. Last week in Foxborough he went 34 for 44, 343 yards and had one touchdown pass. Pretty damn good for those doubting this old man's ability.
Oh, did we mention he's 41… *rolls eyes*
Similar to the Chiefs' offensive success last week, the Pats had quite the running game too. Led by Sony Michel who had 129 yards on 24 carries and three touchdowns! Of course checkdown Tom found his other stud-back, James White, earning him 97 receiving yards on 15 RECEPTIONS! Tying Darren Sproles with the most receptions in a playoff game.
Makes the game pretty easy on old man Tom when he sends three receivers downfield and can dump to White in the flats, a speedy back who has a mismatch with any linebacker. Even if a safety or corner comes down to pick him up, he can almost always make the first man miss.
Perfect example of the swing pass against the Chiefs earlier this year below from a few different angles:
So just like the Rams and Saints, the Pats and Chiefs have already met this season. For the AFC side of things, the Pats won Week 6 in October with a last-second Stephen Gostkowski field goal (his fifth of the game) over the Chiefs, 43-40.
For the Chiefs, Mahomes went 23 for 36 with 352 yards, four TDs and two INTs. Tyreek scored three of those four TDs. For the Pats, Brady went 24 for 35 with 340 yards and a RUSHING TD. Sony Michel dominated with 106 yards on 24 carries and two TDs.
Both defenses couldn't stop shit. This week it is going to be cold as Frosty's dick with single-digit temperatures, according to the National Weather Service.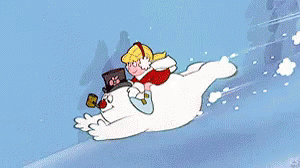 I think the temperature will have a slight impact and help the defense a bit. Possibly hitting the under which is 55.5 points at the time of this article. And since we are on the topic of betting, the Patriots are +3 for the spread and +135 underdogs on money line… which also leads to their motto this week: #BetAgainstUs. Although, with those odds I don't know if I can get myself to do so.
Pat Mahomes is the new Aaron Rodgers. He can throw at absolutely any angle (exactly the reason you shouldn't limit your kid to one sport growing up) and with the flick of his wrist, can send it 40 yards on a string. Unlike A Rod, Mahomes has the young weapons around him and the offensive mind in Andy Reid to produce for years to come. That last part about the man leading him is what also worries me.
Reid is 12-13 in the playoffs. They finally broke the 25-year-old Arrowhead playoff losing streak, but my doubts with Reid are still there. He's a mastermind offensively, but he's been known to tighten up when it matters. The coach across the field is going to have his team ready and will have the right game plan.
In case you need the stats, Bill Belichick is 29-11 in career playoff games and 6-2 in meetings with Reid. The Pats are also 7-1 in their past eight games as the "underdog", as they so badly want to claim.
I would LOVE to see Pat knock off Tom. I might be the biggest Tom Brady hater ever, I don't care. We've seen the Patriots story before and I'm sick of it. This new (soon-to-be) MVP of the league needs to take over for good.
But Belichick won't allow it. Brady won't allow it. They both come out in championship form and their defense makes enough plays against Patrick Mahomes the second. And as much as Falcons fans don't want to hear it, the Pats will head to Atlanta where they could possibly meet the Falcons' divisional rival, the Saints. What a nightmare for that would be for the ATL.
Patriots 29, Chiefs 28
Hope you all have a wonderful AFC/NFC Championship weekend! Happy betting and viewing from us in the Cheap Seats 💺💺💺
---