Date: Saturday, February 8
Time: 
Prelims: 8 PM EST
Main card: 10 PM EST
Location:  Toyota Center, Houston, Texas
Welcome back for another installment of Cheap Seat Predictions. We missed ya dearly.
Last we saw you it was for UFC 245. Took a break during UFC 246 and the McGregor show.. although everyone and their brother should have told you to bet on the Irishman. And we are not talking about Robert Di Nero.
Cheap Seat Predictions currently stand at 53/87 (61%) correctly predicted winners and 16/87 (18%) correctly predicted round and finishes.
Today we will do an abbreviated version with just the two title fights.
💺💺💺💺
Jon Jones (C) vs Dominick Reyes (Light Heavyweight):
Jon "Bones" Jones is currently 20-1 (one no contest) in the UFC and 25-1 (on no contest) overall. If you aren't familiar, Jones earned a loss against Matt Hamill by DQ from an illegal elbow.
Dominick "The Devastator" Reyes is undefeated: 6-0 in the UFC and 12-0 overall. Reyes has taken out fighters like:
Those are three big names right there and that has earned him a shot at the biggest name in the game (next to McGregor when he wants to fight)… "Bones" Jones.
According to bovada: Jones is the favorite at -550 and Reyes is the underdog at +375.
If you follow us on Twitter @CheapSeatFans, you would've saw a Cheap Seat Prediction three weeks ago.
Jones is going to look elite. More so than he has in previous fights because he knows this will be a true test. There will be no playing with his food.
While I think Jones will dominate similar to McGregor, I don't think it'll go down as fast.
Jones def. Reyes via TKO in round three
Valentina Shevchenko (C) vs Katlyn Chookagian (Flyweight): 
Valentina "The Bullet" Shevchenko is 7-2 in the UFC and 18-3 overall. In the UFC she has only lost to Amanda Nunes. Both by split-decision.
Katlyn "Blonde Fighter" Chookagian is 6-2 in the UFC and 13-2 overall. Her only losses coming from Jessica Eye and Liz Carmouche both by split-decision.
Currently, Bovada has the odds at: Valentina is the favorite at -1200 and Katlyn is the under underdog at +700.
So no point in throwing money on Valentina in the straight up odds. The best chances of winning any sort of money would be on a prop bet. Unfortunately, Valentina's odds are still hard to bet on there.
Valentina is in a world of her own and with Amanda Nunes being her only kryptonite.
Anyways, I am not even going to spend time talking about keys to victory because this fight is going to be over faster than you can say Chookagian.
Shevchenko def. Chookagian via TKO in round one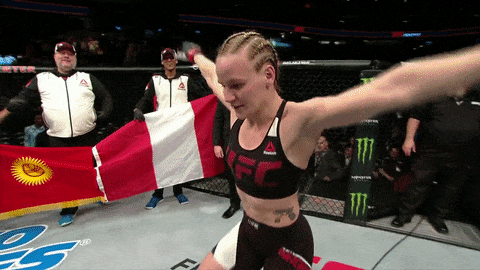 ---