Date: May 9, 2020
Time:
Prelims: 8:00 PM EST
Main card: 10:00 PM EST
Location: VyStar Veterans Memorial Arena, Jacksonville, Florida
Interesting world we live in.
The world is in a tough place attempting to recover from the onset of the COVID-19 pandemic and it has been a long run since we had any taste of live sports. The closest we came to it was Madden / 2K tournaments and the NFL Draft.
Luckily, UFC and Dana White has saved the day. Ensuring the fighters and staff have taken necessary precaution against COVID-19, White has had all the fighters and their teams be tested at arrival for the hotel, individual weigh-ins/pre-fight workouts, no interviews in the octagon, and obviously fight in a crowd-less venue.
UFC is ready to lead the charge for return to a somewhat normal life again. Makes me wanna dance. Like Michael Jack. Son.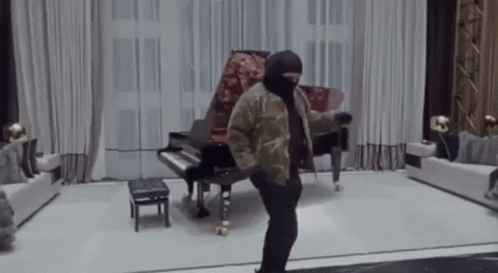 It has been a while, but we are ready. Now we all have the same Cheap Seat view… from the couch.
Going into these predictions Cheap Seat Predictions currently stand at 58/87 correct.
Lastly, before we start evaluating these fighters, want to say we hope Jacare Souza heals up as he and a few of his team tested postive for COVID-19.
💺💺💺💺
Tony Ferguson vs Justin Gaethje (Interim Lightweight Championship):
Tony "El Cucuy" Ferguson is 15-1 in the UFC and 25-3 overall. Ferguson, who is currently on a 13-fight win streak after beating Donald Cerrone in June 2019, was scheduled to fight Khabib Nurmagomedov. As most fun things in our lives right now, that was cancelled due to COVID-19. Khabib is supposedly stuck in Russia, so he's probably not returning until August or September at the earliest.
Luckily, we have psycho, Justin "The Highlight" Gaethje to step in for Mr. Nurmagomedov. Justin is 4-2 in the UFC and 21-1 overall. Gaethje is on a three-fight win streak… ALSO coming off a victory against Donald Cerrone.
Gaethje was ready to fight during the originally scheduled fight on April 18, but luckily for him, he got a few more weeks to prepare after Disney and ESPN told Dana White to stop his attempts at putting it together.
While this isn't the fight we have been waiting for since Ultimate Fighter 22 in 2015, five years ago, I think I speak for most by saying we will happily take any fights at this point.
Ferguson is one of the strangest competitors in the UFC and trains in a corresponding fashion. Maybe that is his secret to leaving every opponent bloodied and defeated:
Gaethje came up winning two state championships in high school in Arizona and becoming a NCAA D-1 All-American. Before making his short, yet successful run in the UFC, he won the World Series of Fighting Lightweight Championship in 2013 and defended it five times.
In the UFC he has finished all his fights by KO/TKO. He has also lost that way twice.
So for our first main event back, this should be a reeeal slobber knocker. The perfect medicine for months indoors, isolated, and deprived of sports.
Tony Ferguson is the favorite at -210 and Justin Gaethje is the underdog at +170.
While I respect Gaethje and his performances in the UFC so far, I don't believe anyone can stand in Ferguson's path to the belt. I love Khabib, but I would have a difficult time predicting against Ferguson in that matchup too. Unlike Khabib's dominant ground attack, Gaethje will be standing and swinging. Most likely looking for leg kicks to weaken and KO punches to stun the world. But can he avoid the elbows and incalcuable attack from The Boogeyman.
I am betting Ferguson shows that he hasn't let off the break despite the change of opponent and uncertainty that this virus has brought on the world, and earns himself the belt that he has earned before waiting for Khabib. One step closer to possibly taking it from "The Eagle".
Who would of thought? That what the world needed in a time like this is The Boogeyman?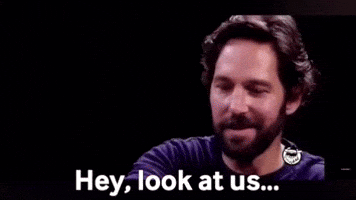 Ferguson def. Gaethje via second round TKO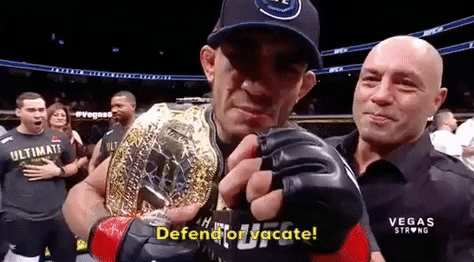 Henry Cejudo vs Dominick Cruz (Bantamweight Championship):
Henry "The Messenger" Cejudo is the current Bantamweight champion and former champ champ in the Flyweight division as well. He is 8-2 in the UFC and 15-2 overall.
Before UFC, he was an Olympic Gold medalist (which he never lets us forget) and two-time USA National Team member. After defeating Demetrious "Mighty Mouse" Johnson, who was on the greatest championship run at the time, Cejudo became the first ever Olympic Gold medalist AND UFC champion. But Cejudo hasn't had much competition. He's even resorted to fighting retired fighters like Dominick Cruz.
"The Dominator" Cruz hasn't fought since he got absolutely out played by Cody Garbrandt in 2016: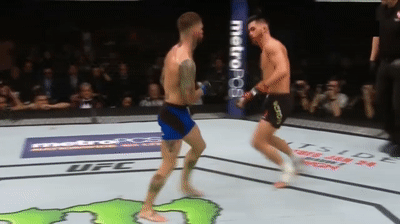 To me, this fight doesn't make much sense to Cejudo. It is an easy win and doesn't face the current up-and-comers on the Bantamweight rankings. As a UFC fan, I would much rather see him fight Jose Aldo or Petr Yan.
I could honestly see Cejudo taking this fight so easily that he doesn't finish Cruz and just plays with him for five rounds. I always have to remind myself that Cejudo put an end to Demetrius Johnson. And I don't see Cruz being able to hang in there like when he started the reign of this division.
Cejudo def. Cruz via round 4 TKO
Francis Ngannou vs Jairzinho Rozenstruik (Heavyweight):
Francis "The Predator" Ngannou is on a three-fight win streak with a 9-2 record in the UFC and 14-3 overall. Before this win streak, he lost back-to-back fights by unanimous decision against former champ, Stipe Miocic, and Derrick Lewis.
Despite any losses on his record, Ngannou should always remain in the top rankings because dude can knockout your favorite fighter in the blink of an eye. Just ask Junior dos Santos and Cain Velasquez.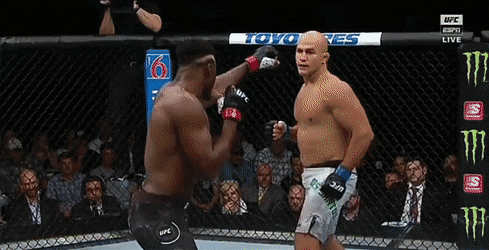 Jairzinho "Bigi Boy" Rozenstruik is making a name for himself at 4-0 with 4 KO/TKO finishes since joining the UFC in February 2019. I was lucky enough to lose $100 and see Rozenstruick destroy Alistair Overeem's lip in the fifth round at UFC on ESPN 7 in D.C. after basically losing the entire fight to Overeem.
I doubted the hell out of Rozenstruik before that fight. He stepped in to replace Walt Harris about a month before the event, so I really didn't think he would be ready for Overeem. Silly me.
Rozenstruik is the underdog at +220 and Ngannou has the big favorite at -280.
It is expected by many that this fight won't go the distance. At the most, there may be some grappling if they don't knock each other out in the first round. Expect someone to catch a right hand.
A part of me is saying, "Don't doubt this guy again. He's going to upset Ngannou and you're going to be out more money because of this new guy." But the other part of me knows Ngannou is going to crush this man because Ngannou isn't going to be complacent like Overeem fought and Rozenstruik is not as disciplined as Miocic was against Ngannou.
Ngannou def. Rozenstruik via KO in round one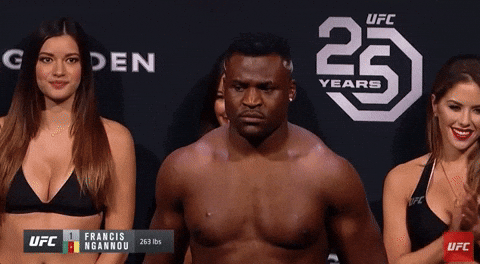 Jeremy Stephens vs Calvin Kattar (Featherweight):
Jeremy "Lil' Heathen" Stephens is 20-5 with one no contest since joining the UFC like forever ago (or 13 years ago) and 28-17 overall. Unlike the fighters in the main and co-main, he is on a three-fight losing streak. The one no contest was in there too when he got poked in the eye and couldn't recover in the time allowed (people were pissed).
The 33-year-old has had 19 wins via KO and is tied with Anderson Silva for the second most knockdowns in UFC history at 18. Of his 17 losses, 12 were by decision.
Calvin "The Boston Finisher" Kattar is 4-2 in the UFC and 20-4 overall in his career. Before joining the UFC, he was undefeated for SEVEN years.
Despite being relatively new to the UFC compared to Stephens, Kattar is the favorite at -250 while Stephens in +195.
On top of this fight supposed to have happened twice before this, it sounds like there has been some extra curricular activities with these two, so there might be a little extra motivation for both competitors.
I think Kattar is ready for the world to be watching and to showcase his talents by taking out Stephens. I assume it will go the distance, however.
Kattar def. Stephens via unanimous decision.
Greg Hardy vs Yorgan De Castro (Heavyweight):
Greg Hardy is 2-2 with one no contest in the UFC. Easily one of the most controversial fighters in the game due to his history of domestic violence and exit from the NFL.
Now the man is paid to fight and entertain so we are going to evaluate him off that. And he looked to be figured out in three rounds with a recognizable name for once in Alexander Volkov. Before that, he was sleepin people and not even breaking a sweat.
Yorgan De Castro is an upandcomer from Dana White's Contender Series like Hardy, and is currently 6-0 overall with an 1-0 UFC record in which he KO Justin Tafa in round one.
I honestly don't know much about De Castro outside of a slick right hand in his last fight. Judging him soley off his physique, I think this might be the type of fighter that Hardy has seen in the past. Someone with potential for a first round KO, but not a threat to Hardy's speed or quickness.
UFC fans hate me if you wish for siding with the football player.
Hardy def. De Castro via TKO in round one
Prelim Bonus Predictions:
Anthony Pettis vs Donald Cerrone 2 (Welterweight):
There are so many good fights on this card. Prelims included. I could have probably talked about three other fights. But I gotta talk about "Cowboy" Cerrone and "Showtime" Pettis.
As you can see, this is the rematch for these two, previously fighting in 2013 where Cerrone took an L from Pettis kicks to the body in round one. Pettis went on to win the Lightweight title in his next fight.
Donald "Cowboy" Cerrone is 23-11 in the UFC and coming off three straight loses to the boys in the main event and Conor McGregor. Been on a downward spiral lately for Cerrone and yet this man wants to fight three times in a week.
Anthony "Showtime" Pettis is .500 at 9-9 in the UFC and 22-10 overall in his career. Pettis is coming off two-straight losses to Nate Diaz via three-round decision and Diego Ferreira via round two rear-naked choke.
Two wildy entertaining fighters but just not sustainable methods in the UFC.
Pettis is the favorite at -155 while Cerrone comes in at +125.
This is a tough one. Cerrone told Brett Okamoto that is he only doing this for the money. Seems like Pettis might be the rightful favorite with previous success and slightly higher morale.
Pettis def. Cerrone via unanimous decision
Enjoy the sports action and hopefully minimize the madness.
---