By Garrett Pelto
Date: February 9, 2019
Time:
Prelims: 8:00 p.m. EST
Main card: 10:00 p.m. EST
Location: Melbourne, Australia
We have quite the main and co-main event this weekend all taking place in the aforementioned Melbourne, Australia. It HAS TO BE more eventful than Super Bowl LIII.
Just a reminder; CheapSeatPredictions for UFC events are currently standing at a record of 31-out-of-44 correctly predicted winners (70%) and 9-out-of-44 (20%) correctly predicted finishes and in what rounds.
💺💺💺💺
Robert Whittaker vs Kelvin Gastelum (Middleweight Championship):
Robert "The Reaper / Bobby Knuckles" Whittaker is 11-2 in the UFC and 20-4 overall in his professional career. Whittaker became the Middleweight Champion after getting the interim belt in 2017 after Georges St-Pierre (GSP) retired and by winning it against Yoel Romero. Romero missed weight in their second fight, so technically Whittaker hasn't defended his belt yet.
Since 2014, Whittaker has sustained a nine-fight win streak after losing to welterweight, Stephen Thompson, and then joining the middleweight division.
In that win streak since, however, Whittaker has bested fighters like:
Jacare Souza via round two TKO (head kick and punches) in 2017
Whittaker has fought and earned a chance to defend his belt in front of his people in Australia. The challenger: Kelvin Gastelum.
Gastelum is 10-3 in the UFC with one no contest (due to a positive marijuana test after beating Vitor Belfort 🙄) and 15-3 with one no contest in his professional career. He earned his UFC contract through the Ultimate Fighter in 2013 by beating his good friend and roommate, Uriah Hall, who Whittaker also beat.
Gastelum, too, moved to middleweight after losing to the current Welterweight Champ, Tyron Woodley and then Neil Magny. After joining the middleweight division, Gastelum easily beat Johny Hendricks via unanimous decision and Tim Kennedy via TKO in Kennedy's last fight.
Then the no contest against Belfort (steroids are one thing… but how can weed enhance your performance for a fight!? Fuckin stupid).
His only loss in middleweight came from Chris Weidman in 2017 via arm-triangle choke, but he rebounded to beat Michael Bisping via vicious KO in round one and Jacare Souza via three-round split-decision in his last fight.
So for two fighters that have found success in the middleweight division, how will this meeting go?
Whittaker has only been KO once and it was the previously mentioned fight against Thompson. Gastelum has never been KO, but like Whittaker, has been submitted and lost in decision. Gastelum's submission loss happened in 2017, a lot more recent than Whittaker's submission loss in 2011.
With these strong stand-up fighters, it is a lot more probable that they KO one another than submission. Both can take a lot of hits and still deliver their own, however, so I think this fight can be more of a toss up than the Bovada odds make it appear:
Gastelum is the underdog at +205 and Whittaker is the favorite at -265 at the beginning of the fight week.
I see this being an exciting main event and if it isn't finished in the first round like Gastelum predicts, then I think it will go to decision. I feel if Gastelum gets some early chin music that he could potentially TKO Whittaker, but Whittaker doesn't exactly have a glass jaw. He is someone who ate Yoel Romero's hands in round four of their last match and was still able to scrape himself off the mat and win in decision.
And while Gastelum appears to have the weight and a Brazilian jiu-jitsu (BJJ) black belt to get on top of Whittaker, don't expect Whittaker to be taken down so easily. The guy has takedown defense like Tyron Woodley. You could hit him with a pickup truck, I still don't know if he's going down.
With the way the odds sit currently, gamblers might as well throw a few on Gastelum winning straight-up or by round one KO.
But in a more realistic prediction, Whittaker will use leg and body kicks to keep Gastelum at bay. Chasing Whittaker around the ring and attempting takedowns could tire Gastelum out, who has never fought for five rounds. So there is a chance that Whittaker KO a gassed Gastelum in the late rounds. But I am going with the safe bet of a decision victory.
The home crowd will be on Whittaker's side, so if he can't get hyped for them, then maybe he should relinquish the belt.
Whittaker def. Gastelum via unanimous decision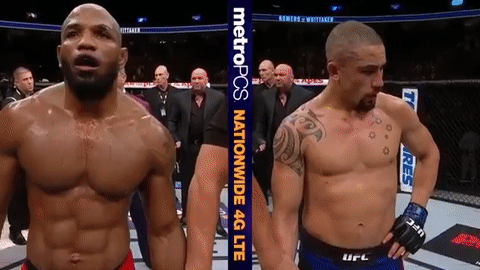 Israel Adesanya vs Anderson Silva (Middleweight):
Israel "The Last Stylebender" Adesanya's record is pretty easy to write down. He's undefeated in his professional career at 15-0. His fight this weekend will be his one-year anniversary since joining the UFC. It is the way this Nigerian-born fighters finishes others that has earned him the comparisons to and now a fight against the legendary, "Spider".
Adesanya fights out of the Australian-neighboring, New Zealand, so this is practically a home fight for him.
"Stylebender" has 13 TKO/KO victories, some of his most memorable finishes include:
Derek Brunson via round one TKO in November 2018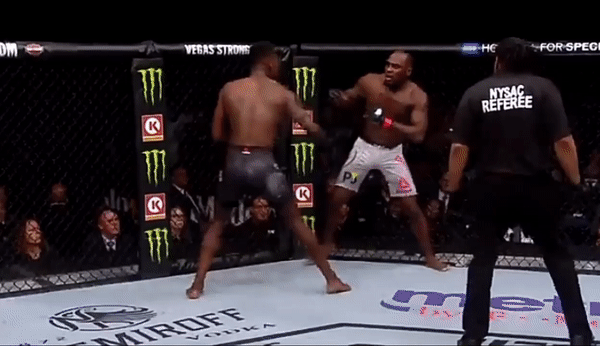 Rob Wilkinson via round two TKO (knees and punches) in his first UFC fight
As you can see, Adesanya fights very, very similar to his next opponent. If you aren't involved in the MMA social media world, you probably haven't seen this, but it has been EVERYWHERE on Twitter:
We talked about the young, up-and-comer, but now let's talk about one of the GOATS. Anderson "The Spider" Silva is 19-4 with one no contest (due to a positive test for an illegal substance against Nick Diaz in 2015) and 34-8 with one no contest overall in his professional career.
In his last fight, TWO YEARS ago, Silva beat Derek Brunson by unanimous decision (Adesanya and Whittaker both KO Brunson). Before that, Silva lost to:
Daniel Cormier via three-round unanimous decision in 2016
Michael Bisping via five-round unanimous decision in 2016
No contest against Nick Diaz in 2015 (suspended a year)
Chris Weidman via broken leg in their 2013 rematch (I have to show it 👇)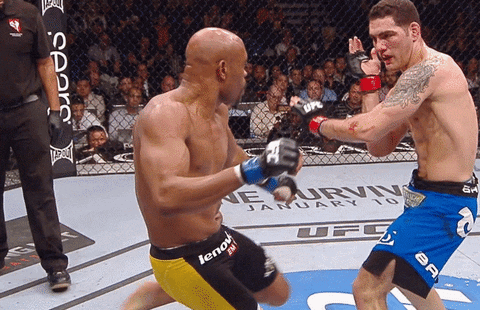 Chris Weidman via round two KO in 2013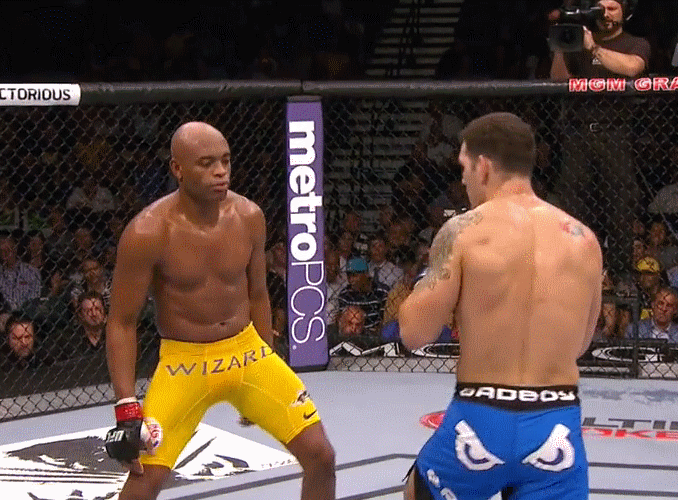 Before that, Silva was on a UFC record, 16-fight win streak. In that win streak he defended his title for another UFC record of ten middleweight title defenses. Some of those notable wins being: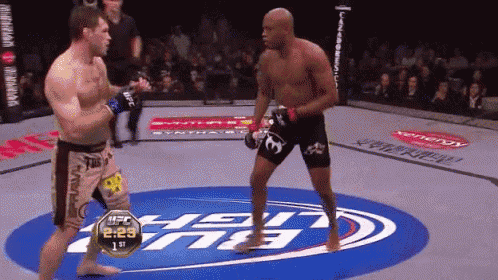 Vitor Belfort via round one KO in 2011
Chael Sonnen (again) via round two TKO (knee to the body and punches) in 2012
I'm sure I missed someone's favorite Silva finish or win, but there are a lot. Sue me.
This is the battle of the high-level striking, Muay Thai fighters. The young blood versus the old legend. Have I hit every headline surrounding this fight?
If this fight goes to the mat, it will be a shock to everyone. Almost equally shocking:
 "Spider" is a +425 underdog in this fight while "Stylebender" is the -650.
It's wild to ever count out Silva by that much. But here is the truth: Silva is a 43-year-old legend who is about to fade into the UFC record books. Adesanya is the favorite because he is quicker than Silva and arguably more unpredictable than Silva was in his prime. Silva has quite the challenge in front of him and A LOT of doubters. *cough cough Stephen Thompson*
Also the truth: a Silva loss doesn't tarnish his legacy (the PEDs do that), but nor does a win necessarily boost Adesanya's reputation in the MMA. People are well-aware of Adesanya's skill, but unfortunately a win doesn't guarantee him a title shot.
Chances are it'll be either Chris Weidman or Luke Rockhold which whom Whittaker talked about facing before agreeing to the Gastelum match.
Adesanya def. Silva via KO in round two
Rani Yahya vs Ricky Simón (Bantamweight):
Rani Yahya is 11-3 with one no contest (due to getting KO by an accidental headbutt from Johnny Beford) in the UFC and 26-9 with one no contest in his professional career. A former 66 kg division Abu Dhabi Combat Club (ADCC) Submission Wrestling World Champion in 2007, Yahya is the 15th ranked bantamweight in the UFC.
This BJJ black belt earns his wins from either submission finishes or by decision. He doesn't have a single victory via KO/TKO! In his last five fights, he is 4-1 and looking to extend that by taking out recent UFC newcomer, Ricky Simón.
Let's review Yahya's most recent submission dubs, obviously something Simon looks to avoid: As for Ricky Simón, he joined the UFC this past year and is 2-0. Overall in his professional career, Simón is 14-1 and currently on a seven-fight win streak.
Simón is also a BJJ specialist that fights out of the Gracie Barra Portland gym, so the submission approach from Yahya might be a little counteracted. In his last fight, he had 14 takedowns in his decision victory against Montel Jackson. Before that, he took out Merab Dvalishvili via the strangest TKO/submission you'll see.👇👇👇
Simón also called his shot this week by saying he's going for the KO against Yahya in a "sprawl n' brawl" approach. Yahya better be careful going for those takedowns because he could easily take a fight-ending shot in the chops.
I am going with the UFC newbie in a match that should be an aggressive grappling match. I think Simón catches Yahya either trying to get a takedown or on offense of his own.
Simón def. Yahya via TKO in round two
Montana De La Rosa vs Nadia Kassem (Women Flyweight):
Montana De La Rosa is 2-0 in the UFC and 9-4 in her professional career. She's 3-2 in her last five fights, all three wins coming from submission finishes. She's a Texas girl who is currently ranked at 23 in the flyweight division. On top of her own knowledge, she's married to a fellow UFC fighter, Mark "Bumblebee" De La Rosa.
Since joining the UFC, she defeated:
Her last fight was against Ostovich, who just recently lost to Paige VanZant. Coincidentally enough, De La Rosa called out PVZ for her next fight after UFC 234.
Nadia "187" Kassem, like De La Rosa, is new to the UFC (she, too, is eyeing PVZ in her next fight). She is 1-0 in her only UFC fight against Alex Chambers in 2017, winning via three-round unanimous decision. Overall she is 5-0 in her professional career, winning four-out-of-five via TKO/KO finishes. So this boxer, ring your bell. Do yourself a favor and watch her spinning backfist finish (1:25) 👇
Kassem was born in Australia, so this is basically a home fight for her. She was also inspired to do MMA through her brother who competed in grappling tournaments.
While I like the fact she knocks people out, the odds are stacked against her. On Bovada.com, she is currently the underdog at +200 while De La Rosa is -250 favorite.
Truth be told, I don't know much about these women. Based off their recent performances I believe we could have a good fight on our hands: one's a submission technician and one's a KO expert. They have obviously earned their right to make it on a main card which says a lot about their potential.
I really want to go with Kassem, but I think I am going to ride with the favorite, she must be the more consistent and proven fighter. In addition, they have Kassem listed as a strawweight, but now she is fighting at flyweight. This makes me think she is going to be at a disadvantage in fighting De La Rosa who is naturally heavier, although Kassem's punches may have a little more behind them. Consider hedging the favorite by betting on Kassem to win inside distance.
De La Rosa def. Kassem via rear-naked choke in round two
Jim Crute vs Sam Alvey (Light Heavyweight):
Jim "The Brute" Crute is an Aussie who won a UFC contract through the second season of Dana White's Contender Series in July 2018. In his one UFC fight he beat Paul Craig via kimura in the third and final round of their bout.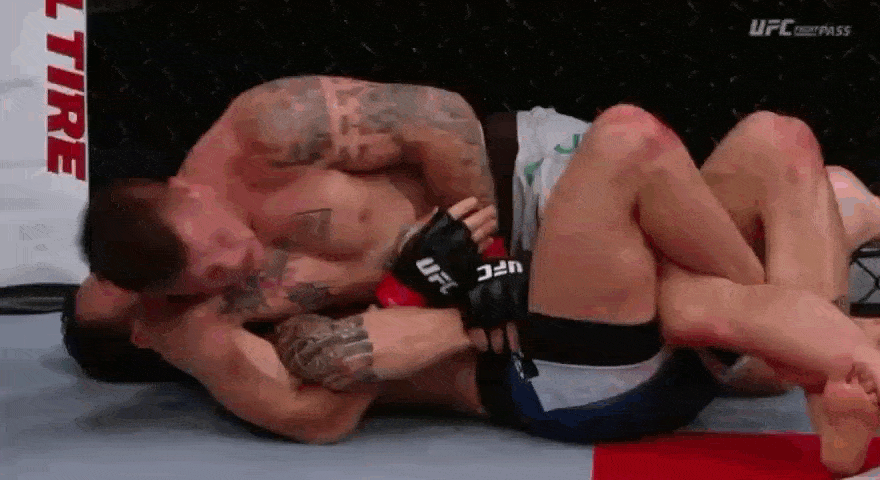 Overall in his professional career, Crute is 9-0. He is coming from the Australian fight tournament, the Hex Fight Series where he has gained attention in the light heavyweight division. He's earned the right to fight on home soil against a veteran in the game, Sam Alvey.
Sam "Smile'n" Alvey is 10-6 in the UFC since joining in 2014. Overall in his professional career, he is 33-11. Almost 50 professional fights is something that Alvey draws on as a big factor against taking out this newcomer in Crute.
Alvey is 3-2 in his last five fights. Losing to Antonio Rogerio Nogueira in September via TKO in round one and Ramazan Emeev via three-round unanimous decision in 2017 (three fights ago).
His most recent and notable wins include:
While this is more of a home fight for Crute than Alvey, this will be Alvey's third fight "down under" so he isn't necessarily out of his element.
While Alvey is a veteran, he doesn't pose too much of a risk to Alvey. This is his FIRST pay-per-view fight… almost 50 fights and this guy hasn't been on pay-per-view card. Shit is wild. He's rightfully earned his self-proclaimed title, "Fight Night King". The guy just accepts any offer before hearing who he is fighting.
If Crute can avoid running into a punch like Prachino did against Alvey, then I think he'll be okay. If he can't come out on top, then it might just be vindictive of his career.
The Bovada odds have Crute as the favorite at -140 and Alvey as the underdog at +110.
Outside of his experience, something else that plays in Alvey's favor, is that Crute already has a cut underneath is eye before the fight has even started.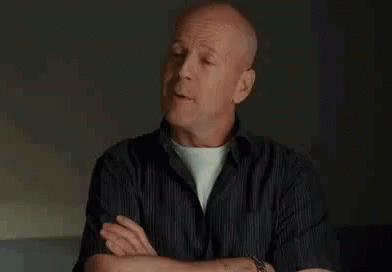 Although Crute says he enjoys a "bloodbath", I know where I am striking if I am Alvey.
Despite the cut and less experience, I am going with the Aussie newcomer and favorite.
Crute def. Alvey via unanimous decision
To all the gamblers, good luck with ya bets and happy viewing
---