By Garrett Pelto
Date: Saturday, April 13
Time: 
Prelims: 8 p.m. EST
Main card: 10 p.m. EST
Location: Atlanta, Georgia
It may be April, but WINTER. IS. HERE. What a weekend! We got playoff hockey, playoff basketball, the Masters, UFC 236 AND the Game of Thrones final season.
We hope you have missed Cheap Seat Predictions as much as we have missed you. Had some downtime due to website issues. But we back, baby! Just to check in, Cheap Seat Predictions currently stand at:
40-out-of-57 (70%) correct fighters and 11-out-of-57 (19%) correct rounds and finishes.
Let's get into some actual predictions for who takes their respective thrones at UFC 236.
💺💺💺💺
Max "Blessed" Holloway vs Dustin "The Diamond" Poirier 2 (Lightweight Championship):
Max Holloway is 16-3 in the UFC, 20-3 overall in his professional career. He has only lost to Conor McGregor, Dennis Bermudez and Dustin Poirier, in his UFC debut. After going 3–3 in his first six, Holloway has gone on a 13-fight win streak, making him the undisputed Featherweight Champion and one of the greatest fighters in UFC.
He's beat legends:
He's beat an undefeated, up-and-comer trying to take his belt: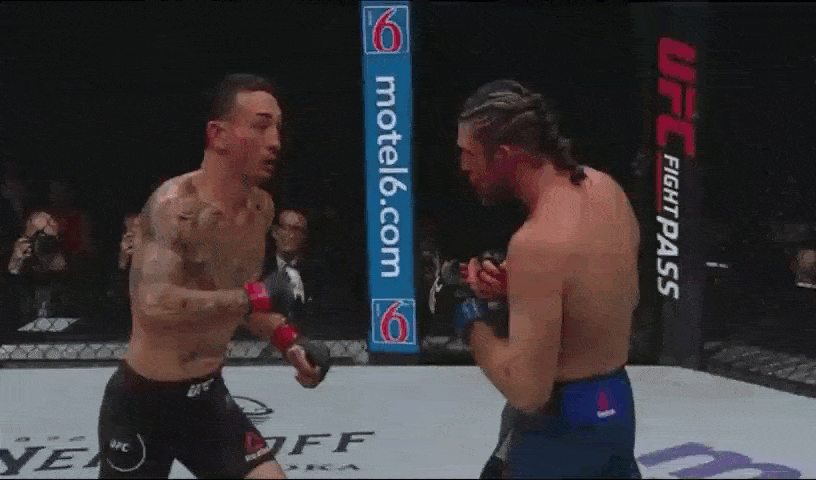 He's advanced a long way since getting choked out by Poirier in his first fight. But so has Poirier. Now they face-off in the lightweight division.
Dustin Poirier is 17-3 with one no contest (for an illegal knee against Eddie Alvarez) and 24-5 with one no contest in his professional career.
Poirier has waited on his opportunity to fight for the belt for a while now. 22 fights to be exact. He has worked his way up the ladder against great fighters. His noteworthy wins have come against:
His only losses include:
Kind of surprising the people he has lost to. Like this dude lost to Cub Swanson but beat "Showtime" Pettis and Justin Gaethje? So weird.
Anyways, expect this fight to be a dog fight. Holloway being the high-volume striker and Poirier being the calculated heavy hitter.
I would say Holloway needs to come out and connect early and often. He'd also be smart to keep distance like he usually does. Using leg kicks to keep Poirier at bay wouldn't be a bad idea. Poirier is a guy who likes to punch into his takedowns and I think that is where Holloway should be worried.
Holloway has improved his ground game drastically since his debut against "The Diamond", but I don't think on the mat is where "Blessed" wins this one.
Holloway is the favorite at -205 while Poirier is the underdog at +165.
And I'd have to agree. Although Holloway is moving up for this one, he is still bigger than Poirier who naturally fights at this weight.
I see Holloway getting a lot of strikes in like he does, but not being so dominant as he was against Ortega, who I strongly doubted Holloway against. I see Poirier getting some work in, even taking Holloway down against the fence a few times. Poirier has a strong head, so it's hard to see him getting KO. It will most likely be a Holloway win via unanimous decision.
But I am going to say Poirier gets greedy / desperate, goes in for a takedown and catches a fat knee to the face!
Holloway def. Poirier via KO in round four
Kelvin Gastelum vs Israel "The Last Stylebender" Adesanya (Middleweight Interim Championship):
Gastelum is 10-3 in the UFC with one no contest (due to a positive marijuana test after beating Vitor Belfort 🙄) and 15-3 with one no contest in his professional career. He earned his UFC contract through the Ultimate Fighter in 2013 by beating his good friend and roommate, Uriah Hall, who Whittaker also beat.
His only loss in the middleweight division came from Chris Weidman in 2017 via arm-triangle choke, but he rebounded to beat Michael Bisping via vicious KO in round one and Jacare Souza via three-round split-decision in his last fight.
His most recent fight was scheduled to be against Robert Whittaker at UFC 234, but Whittaker had to have surgery on a hernia injury the morning of the fight. Which led to Whittaker walking around with a belt… like he actually won anything.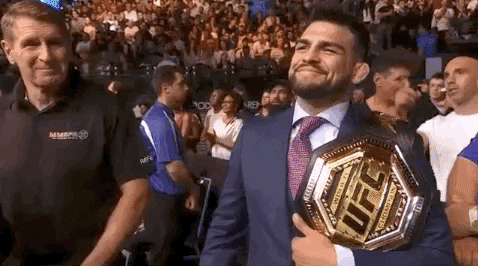 Someone else was at that fight and also took notice of how dumb Kelvin looked wearing a belt that didn't belong to him (was actually Henry Cejudo's): His opponent this weekend, Israel Adesanya.
That night, Israel "The Last Stylebender" Adesanya, was busy taking out the GOAT, Anderson Silva. Adesanya was promised a chance at the belt after his fight. So what do we do when tow guys want the belt but the champ is injured? We have an interim fight.
Adesanya is 5-0 in the UFC. 16-0 in his professional career. And 25-5-1 in his kickboxing career.
"Stylebender" has 13 TKO/KO victories, some of his most memorable finishes include:
Derek Brunson via round one TKO in November 2018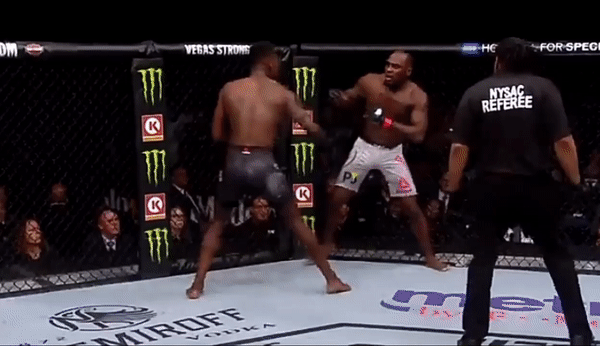 Rob Wilkinson via round two TKO (knees and punches) in his first UFC fight
While Adesanya is a KO specialist. Kelvin has never been KO. So what happens during this fight?
I expect Kelvin to use his weight and body to get in on Adesanya. It's not going to do him any good just waiting back and trying to counter. Adesanya does too much faking and fainting (see video above) to predict what he is going to do. You have to come on the offensive and get his back against the cage or on the ground. You have to unsettle him.
I think Kelvin gets slept on very hard. He has powerful punches. But I don't see him getting a clean enough it on Adesanya to finish him. I see Adesanya chipping away at Kelvin for five rounds. Maybe even giving him his first KO loss?
Adesanya is the slight favorite at-170 while Gastelum is the slight underdog at +140.
This is showing a helluva lot of respect for Gastelum. I think people are starting to think that since Adesanya didn't take out the aging "Spider" Silva, that he isn't the real deal. I will easily take the bet against Gastelum in this one.
These Nigerians are doing very well in the UFC right now, it's hard to best against them.
Adesanya def. Gastelum via unanimous decision
Eryk "Ya Boy" Anders vs Khalil "The War Horse" Rountree (Light Heavyweight):
Eryk Anders is 3-3 in the UFC and 11-3 in his professional career. He's gone back-and-forth in his bouts. He's beat Rafael Natal and Markus Perez, but loss to Lyoto Machida and current Light Heavyweight challenger, Thiago Santos.
Khalil Rountree is in a similar spot as Anders, 3-3 and one no contest in the UFC and 7-3 with one no contest in his professional career.
Rountree is looking to bounce back from his rough round one elbow KO from Johnny Walker…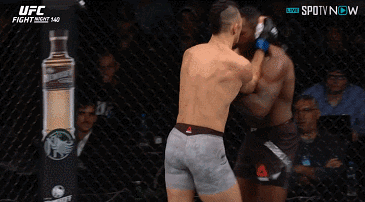 Ouch.
Both these fighters coming off losses sets the stage for two hungry fighters that are desperate for a convincing win. Rountree has to still come in aggressive despite having his soul snatched. Anders needs to also be aggressive in a different way. He needs to get dirty with Rountree like Walker did to him.
Anders is the favorite at -205 while Rountree is the underdog at +165.
I think the odds look this way because Rountree was dominated so badly in his last fight and gamblers should be wary of a fighter who took such a hit to his confidence. Anders is a little more well-known as well, which I also think benefits his odds.
I am going to go with the underdog in this one. I think he comes into this fight with way more to prove than Anders aka hungrier. Although these guys are known for KOs, I think they both come out a little more hesitant and calculated.
Rountree def. Anders via unanimous decision
*If you want to read the emotional story behind Rountree and the death of his father, click here.*
Alan "Brahma" Jouban vs Dwight Grant (Welterweight):
Alan Jouban is 7-4 in the UFC and 16-6 in his professional career. He's coming off a round two highlight KO against Ben Saunders.
Before that he had a two-fight skid in 2017 against Gunnar Nelson via round two guillotine choke and Niko Price via round one TKO.
Dwight Grant is 1-1 in the UFC after earning a contract through Dana White's Contender Series in June 2018. His UFC debut was a split-decision loss to Zak Ottow and his last fight was a round one TKO highlight against Carlo Pedersoli Jr.
Clearly both these fights have some heavy hands to throw. Expect the winner of this fight to come out with a fight bonus for KO the other.
This matchup is close on the Bovada odds. Dwight Grant is the slight favorite at -125 while Alan Jouban is -105.
I am going with the slight favorite. Mainly because I feel Grant is riding the high from his last fight and spectacular KO. In a fight where both are heavy hitters, you just never know. Explains the reason why the odds look the way they do. Bet on this one not finishing three rounds.
Grant def. Jouban via round two KO.
Ovince (OSP) St. Preux vs Nikita Krylov 2 (Light Heavyweight):
Ovince St. Preux is 11-7 in the UFC and 23-12 overall in his professional career. OSP is 4-2 in his last six fights after losing three-straight to current champ, Jon Jones, Jimi Manuwa and Volkan Oezdemir.
It's hard to predict what OSP we will see. This fighters has gained attention in the UFC for the Von Flue choke, although he hasn't used it recently to win. He's so huge and powerful, it's frustrating to see him come in the octagon not able to dominate like he used to.
Nikita "The Miner" Krylov is 6-4 in the UFC and 24-6 overall. Krylov had to leave the UFC for a bit after 2016, but returned in 2018 to lose to Jan Blachowicz.
These two actually fought in 2014, where OSP came away with a win via round one shoulder choke.
Should be interesting to see where Krylov is now in his fight game and if he has grown at all since their initial fight in 2014. Krylov is currently the favorite at -135 while OSP is the underdog at +105, so the odd makers surely think he is more than capable of winning.
Incredibly, Krylov has never had a fight go to decision in his 30-fight career.
Based off that and OSP's lack of urgency at times, I am going with the Russian.
Krylov def. St. Preux via TKO in round three
Happy betting to all you filthy gamblers! 💺💺💺💺
---