By Garrett Pelto
Time:
Prelims: 8 PM EST
Main card: 10 PM EST
Date: Saturday, June 8, 2019
Location: Chicago, Illinois
The view from the Cheap Seats lately have been quite the nosebleeds with our UFC Cheap Seat Predictions.
Going two-for-five in my last article's predictions for Fight Night 152, CheapSeatFans has now predicted 46-out-of-70 (66%) correct fighters and 14-out-of-70 (20%) correct round AND finish. So it wasn't that great of an outing for us last week…
On this week's schedule is the next big UFC event: UFC 238. Two title fights. And a matchup for the history books. Let's get into it.
💺💺💺💺
Henry Cejudo (C) vs Marlon Moraes (Bantamweight Championship):
Henry "The Messenger" Cejudo is 8-2 in the UFC, 14-2 overall, and the current Flyweight Champion. Cejudo became the champ after beating Demetrious Johnson, the greatest bantamweight in UFC history, and successfully defended it against Bantamweight Champion T.J. Dillashaw in January. Now that Dillashaw is in the dog house, he has the chance to take the vacant bantamweight title and become a champ champ.
Cejudo, 32 years old, probably kept this division alive when many thought a Dillashaw win would wipe it from UFC. Cejudo's gone on a four-fight win streak since losing back-to-back in 2016 to Demetrious Johnson in their first fight and then Joseph Benavidez.
The challenger, Marlon "Magic" Moraes, is 4-1 in the UFC since joining in 2017. Overall he's 22-5-1. Before joining the UFC, he was the Bantamweight Champion in the World Fighting Series where he went 11-0 and successfully defended his title five times.
In the UFC he lost in his debut to Raphael Assuncao via three-round split-decision. His next four fights were wins against:
Raphael Assuncao via round one submission (guillotine choke) in their 2019 rematch
Despite going up against a defending champ, Moraes is the slight favorite at -125 while Cejudo is the underdog at -105.
Coming into this fight week I was on the side of Cejudo, but then I got my head on straight and thought about how he has to move up a weight class and fight this incredible striker in "Magic" Moraes.
Cejudo surprised us all when he took down Demetrious Johnson. Didn't really surprise us when he beat Dillashaw, but still impressive nonetheless. I have had enough of his dress ups before fights and cringey social media moves.
I think Moraes does the striking job while fighting off any grappling attempts from Cejudo.
Moraes def. Cejudo via TKO in round two
Valentina Schevchenko (C) vs Jessica Eye (Women's Flyweight Championship):
Valentina "Bullet" Schevchenko is the current Women's Flyweight Champion at 5-2 in the UFC and 16-3 overall in his professional career. Schevchenko became the champ in 2018 after beating Joanna Jedrzejczyk via five-round unanimous decision (who she also beat three times in amateur Muay Thai).
Her only two losses in the UFC have come from decisions against the champ champ, Amanda Nunes (Women's Bantamweight and Featherweight Champion).
Outside of Joanna, Schevchenko has also beat:
The Challenger, Jessica "Evil" Eye, is 9-5 with one no contest in the UFC is 14-6 with one no contest overall. She's bounced around between women's flyweight and bantamweight divisions mainly because she lost five-out-of-six in the bantamweight division. Since joining the flyweight division in 2018, she's won three-straight against:
Despite her win streak, Eye is the underdog at +750.. Ouch. While Schevchenko is -1200. So maybe worth throwing a few dollars on the upset.
I don't think there is much to this fight. I think Eye might surprise us by lasting the whole fight, but Schevchenko is just too elite for her.
Joining the Valentina train…
Schevchenko def. Eye via unanimous decision
Tony Ferguson vs Donald Cerrone (Lightweight):
Tony "El Cucuy" Ferguson is 14-1 in the UFC since winning the Ultimate Fighter 13 in 2011 and 24-3 overall in his professional career. Ferguson was the interim UFC Lightweight Championship. A lot of MMA fans would agree with the thought that Tony should have fought for the title a longgg time ago.
For those of you not familiar with Ferguson's loss of the interim title and missed opportunities to fight Khabib here's a run down:
First fight scheduled: Ferguson vs Khabib Nurmagomedov was scheduled in December 2015, but Khabib backed out due to injury and replaced by Edson Barboza. Ferguson choked him out in the second round.
Second fight scheduled after injury: Ferguson vs Michael Johnson 2 was scheduled next in 2016. Johnson got hurt, Khabib replaced him and then Ferguson ALSO backed out due to a lung injury. Darrell Hocher replaced Ferguson and lost to Khabib.
Rescheduled for a third time: Ferguson vs Khabib. Khabib hospitalized from his weight cuts. Fight cancelled.
Ferguson vs Kevin Lee for interim title. Ferguson wins the Interim Lightweight Championship via third round submission.
Rescheduled for a fourth time: Ferguson vs Khabib. Ferguson tears his LCL in his knee and can't defend his interim title. Max Holloway replaces Ferguson, but he ALSO backed out. Fight cancelled.
Khabib vs Al Iaquinta scheduled for the lightweight title. Khabib dominated Iaquinta who wasn't eligible to win the title because he came in overweight.
Then Conor McGregor got the next chance at the belt OVER Ferguson. And we know how that fight ended…
So how does this screw Tony Ferguson exactly? After many missed opportunities to see Ferguson and Khabib square-off, McGregor was awarded the opportunity over Ferguson, who hadn't lost a fight since 2012…
With that said, Ferguson was given the chance to fight for the Lightweight Interim Championship again against Max Holloway this time, after Khabib received his suspension, but turned it down. So UFC "settled" for Holloway vs Poirier 2 (still a great fight). Now Poirier has the interim title.
From what we can tell, Ferguson turned down the belt because he wants the real thing and also didn't think he was being compensated appropriately fighting for the interim title. Although, we've seen Ferguson dealing with mental health challenges.
Which leads Ferguson here.
A fight against another fan favorite, Donald "Cowboy" Cerrone. "Cowboy" is 23-8 since World Extreme Fighting merged with the UFC in 2011 and 36-11 overall in his professional career. "Cowboy" also has the record for:
Most wins in UFC history
Most finishes in UFC history
Most knockdowns in UFC history
Most post-fight bonus awards in UFC history
While there are two championship fights on this main card, this is the most exciting fight scheduled. A win for either fighter should put them in line for a title shot against the winner of Poirier vs Khabib.
These two are easily the craziest fighters in the game. Mentally and fighting styles. But it has got them this close to the belt.
Ferguson is the favorite at -160 while Cerrone is the underdog at +150.
This is an incredibly tough fight to predict. I personally want Cerrone to win because I love this attitude and him just not giving a damn about who he is fighting, he just says yes to them all. I also recognize Ferguson has been waiting a while for this and hasn't lost in a minute. This division is a beautiful mess of talent and we are lucky to see it go down.
These guys are going to mess. Each other. Up. I can't see either going down early. If "Cowboy" loses, it'll be because he let himself take too many shots in an attempt to take Tony's head off. But I'm going with my heart and the guy who has been inspired by the birth of his child.
Cerrone def. Tony Ferguson via split-decision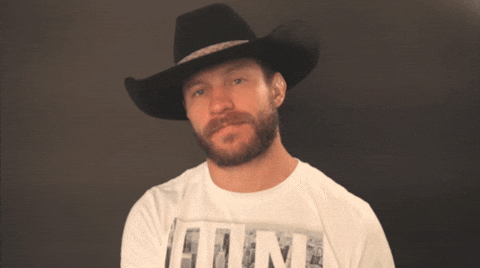 Jimmie Rivera vs Petr Yan (Bantamweight):
Jimmie "El Terror" Rivera is 6-2 in the UFC and 22-3 overall in his professional career. Those two losses only coming from Marlon Moraes, like mentioned earlier, and Aljamain Sterling via three-round unanimous decision in February.
His most notable wins came against:
Urijah Faber via three-round unanimous decision in 2016
Thomas Almeida via three-round unanimous decision in 2017
John Dodson via three-round unanimous decision in 2018
Petr "No Mercy" Yan is 4-0 in the UFC and 12-1 in his professional career. Before joining the UFC he was fighting in the Absolute Championship Akhmat where he became the Bantamweight Champion and successfully defended it once.
In the UFC octagon, two of his four victories came from TKO and the other two came from three-round unanimous decision.
Currently, Petr Yan is the favorite at -325 and Jimmie Rivera is the underdog at +250.
I am not going to go against these odds. Jimmie is the veteran at this point and needs a bounce back win, so I could see him realizing how bad he needs it. At the same time, Petr Yan is a tough mother.
Yan def. Rivera via TKO in round two
Tai Tuivasa vs Blagoy Ivanov (Heavyweight):
Tai "Bam Bam" Tuivasa is 3-1 in the UFC and 8-1 overall as a professional. His only loss came in round two of his last fight against Junior dos Santos. Dos Santos got on top of him and bullied him.
Before that, Tuivasa was on a three-fight win streak:
Blagoy "Baga" Ivanov, similar to Tuivasa, hasn't been in the UFC long. He won the 2008 Combat Sambo World Championships in Saint Petersburg, Russia. He's 1-1 since joining the UFC in 2017 and 17-2 professionally.
Also similar to Tuivasa, he lost to Junior dos Santos, although Ivanov lasted longer and lost by five-round unanimous decision. His sole UFC victory came against Ben Rothwell by three-round unanimous decision in March 2019.
So of the two UFC newcomers who walks away victorious?
The odds have it as Tuivasa as the favorite at -160 while Ivanov is the underdog at +130.
I'm agreeing with these odds as well. Tuivasa is going to bounce back after his loss from the veteran. He realizes where he has to get to be a big name and I think he takes the right step this fight against a fighter who is still getting his feet wet.
Tuivasa def. Ivanov via round three TKO
Happy viewing everyone and good luck gamblers 💵💵💵
---